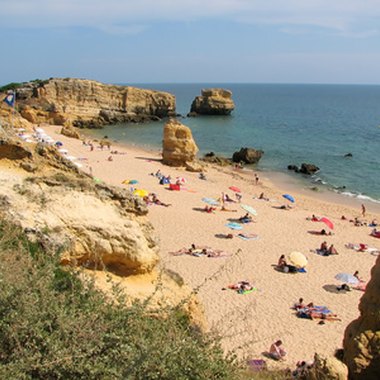 Many of the coastal towns in the Algarve have lost much of their Portuguese charm as a result of over-development, but not Lagos. Situated roughly 40 miles west of the airport at Faro, Lagos has retained so much of its Old World character that Rough Guides describes it as "one of the Algarve's most attractive and historic towns." That makes staying in a luxury hotel located inside Lagos itself just as attractive as staying on a nearby beach.
Considerations
Lagos is the one place in the Algarve where staying in town offers a serious alternative to staying right on the beach. A visitor can stay in a city-based hotel within walking distance of 14th-century walls and the Portuguese-style seafood of the restaurants on Rua 25 de Abril and Rua Afonso d'Almeida, and yet still enjoy the beach. From the city's hotels, patrons can either walk to beaches like Praia do Pinhao, located in a cove just outside of town, or take a public bus from the town hall down to beaches like Meia Praia.
Romantik Hotel Vivenda Miranda
Frommer's describes this hotel as a "real discovery" and gives it its top "exceptional" rating. The Vivenda is a small, 25-room hotel in a 17th-century building that exemplifies the blend of Moorish and Portuguese architecture that is typical of the Algarve. Frommer's went on to label the rooms "stylish and exceedingly comfortable." Perched on the Porto de Mos cliffs, the hotel also commands a panoramic view of the sea and is only a few minutes' walk from the beach.
Parque da Floresta Resort
Located about six miles west of Lagos, the Parque de Floresta is owned by Vigia, a small chain of luxury resorts in the Algarve. Accommodations take the form of fully equipped two- and three-bedroom villas spread around the resort's 18-hole golf course, making the resort a logical choice for families, especially those taking a long-term vacation in the region. Being located so far west in the Algarve makes this a secluded place to stay, and the beaches are liable to be uncrowded even in summer. However, it also means renting a car is a priority, because patrons without one will be relying entirely on taxis for transportation.
Tivoli Lagos
The Tivoli Lagos is part of a luxury hotel chain found in Portugal and Brazil, and this particular hotel is described by Rough Guides as Lagos' "most upmarket central hotel." The rooms are appointed simply but comfortably in a traditional Portuguese style. Many open onto wedge-shaped balconies, and every room in the hotel has a pleasant outdoor view. Among the hotel's amenities is ownership of the Duna Beach Club, to which the hotel runs regular and free shuttle buses. Patrons will find exclusive beach access, tennis courts and a saltwater swimming pool there.
References
Rough Guide to Portugal; Jules Brown, Mark Ellingham, John Fisher, Matthew Hancock and Graham Kenyon; April 2007
Photo Credits
algarve beach crowded with people image by kubais from Fotolia.com