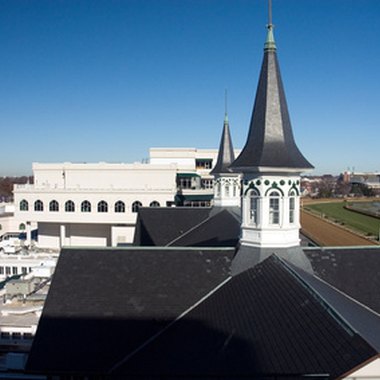 Louisville, Kentucky, founded more than 230 years ago, has a metropolitan population of more than 1 million people and is a major port city of its state. The city is home to a cultural milieu influenced by both Southern and Midwestern culture, which is apparent in the luxury hotels and resorts in the city.
Galt House
In the center of Louisville and seven miles from Louisville International Airport, the Galt House is the largest luxury hotel in Kentucky. The hotel includes 1,290 guest rooms, including 650 suites, which are simply styled with a green-and-blue color palette. Galt House's staff of concierges assists guests with transportation, show tickets and restaurant reservations. The rooftop pool features vistas of the Ohio River and a pool-side cafe. Sweeping views of the surrounding terrain may also be enjoyed from the fitness center, which offers high-tech strength and cardiovascular equipment, as well as massage services.
The Brown Hotel
The Brown Hotel evokes the aesthetic of English Renaissance architecture, and opulence and glamour reign supreme throughout the entire hotel, epitomized in the lobby's hand-painted, vaulted ceiling. An amalgam of 17th-century elegance and modern chic bedeck each of the nearly 300 guest rooms and suites, with crystalline furnishings and rich beige, gold, silver and coral pink. The most luxurious rooms are on the club floors, which come with exclusive access to the club lounge. The hotel's restaurant, the English Grille, serves American cuisine and has a cellar of more than 200 wines.
Seelbach Hilton
The Seelbach Hilton is a hotel of historical prominence; since it was built in 1905, the French Renaissance-inspired hotel has been the frequent haunt of many notable people, including nine presidents, Elvis Presley, Julia Child, Al Capone and F. Scott Fitzgerald, who eventually used the hotel as a setting in "The Great Gatsby." Each of the hotel's guest rooms and suites features high ceilings, a rich, wood-color palette and ornate furnishings. The largest suite, the Presidential, is 1,100 square feet of stately luxury.
21c Museum Hotel
The 21c Museum Hotel is unlike most hotels -- the boutique hotel features a full-size museum of contemporary 21st-century works of art, and this aesthetic style crosses over to the hotel's 90 rooms. Each room is smartly styled with clean lines and complete with original artwork; the hotel was among the top finalists in the National Design Award for Interior Design in 2008. The hotel-museum's restaurant is the winner of Esquire Magazine's Best New Restaurants in 2006 and is famed for serving more than 50 types of bourbon.