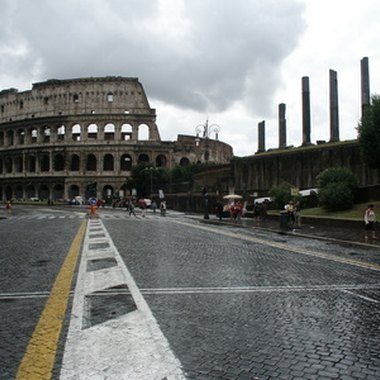 With its open-air markets and ancient Roman ruins, it is no wonder why millions of visitors come to Rome every year. This capital city provides a rich variety of historic sites and attractions — from the 2,000-year-old Colosseum to St. Peter's Basilica, the largest church in Italy. Although a vacation to Rome can get pricey, travelers can save money by booking a room at a low-cost hotel. Budget-friendly accommodations can be found throughout the city's neighborhoods.
Campo De' Fiori
Located in charming Old Rome, Campo De' Fiori is a sprawling square with a busy market that sells local fruits and vegetables. For low-cost hotels in this neighborhood, look into the Hotel Arenula -- a family-run establishment that's housed in a 19th-century building. The guest rooms at this hotel are simply furnished, but each room comes with a private bathroom and satellite TV. Another budget hotel is the Albergo del Sole al Biscione, considered the oldest hotel in Rome. The Albergo del Sole boasts a lovely rooftop terrace, and some of the rooms have a private bath and air conditioning. Both hotels have received star ratings from Frommer's.
Spanish Steps
From the Renaissance to today, the Spanish Steps has remained a popular gathering point for artists, writers and tourists. Budget accommodations in the area include the Hotel Panda and the Hotel Parlamento, both of which offer low-cost prices and antique furnishings. At the Hotel Panda, guests will sleep in small-yet-comfortable rooms that come with air conditioning and wireless Internet access. If you prefer a hotel with a historical flair, then consider the Hotel Parlamento, which is housed in a 16th-century palace. This hotel has a rooftop garden and provides a complimentary continental breakfast.
Stazione Termini
If you would like direct access to Leonardo Da Vinci Airport, then book a room near Stazione Termini – the main train station in Rome. Tourists will find numerous low-cost hotels in this part of Rome, including the Hotel Aphrodite and the Hotel Italia. Newly renovated, the Hotel Aphrodite is a convenient choice for travelers due to its quick check-ins. Guest rooms are decorated in a modern style and equipped with a private bathroom. For another budget option, check out the Hotel Italia, which has 31 guest rooms with en-suite baths. This hotel provides wireless Internet access and a breakfast buffet.
Vatican City
Situated on the western bank of the Tiber River, the Vatican City area is surrounded by residential streets and is ideal for visitors who want to visit the Vatican museums. The Residence Giuggioli is a recently renovated family-run hotel that's known for its spacious high-ceiling rooms. Amenities include a TV, safe and complimentary breakfast. Another low-cost option is the Il Gattopardo Relais, nicknamed "hotel del charme" due to its Art Nouveau architecture. Each of the six rooms are individually designed and have an en-suite bathroom with shower.
Resources
Residence Giuggioli; Via Germanico 198; Rome 00192; +39 06 36005389