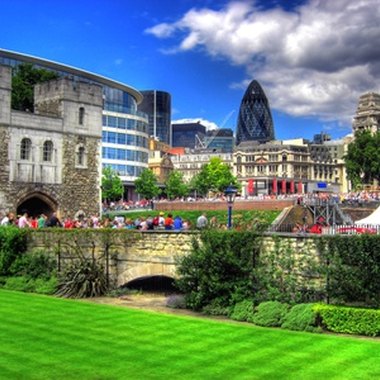 A UK vacation does not have to leave you broke, especially when you stay at a low-budget London hotel. No frill, low cost hotels are perfect for short stays when in the area for business or pleasure. Although these hotels do not offer the amenities of their five-star counterparts, low-budget hotels provide guests with the basics need to get a descent night of rest.
Jurys Inn Croydon Hotel
Located in the Croydon area of South London, the Jurys Inn Croydon Hotel is in the heart of the area's business center and is only 20 minutes away from the center of London or the Gatwick Airport by train. A select number of rooms at the Jurys Inn are handicap accessible, and rooms at this low-budget hotel can accommodate one to four guests. The Jurys Inn offers basis amenities, including LAN Internet access in public areas of the hotel. This accommodation may not allow provide a refund for advanced reservations of a room, and a refundable £100 security deposit may be charged per room when group reservations are made.
Lodge 51
Located in the Stratford area of London, Lodge 51 is close to public transportation options that can take guests to all the city's sites in 20 minutes or less, including the 2012 Olympic Village. Accommodations are modernly decorated with solid colors, updated lighting fixtures and crisp linens, and range from the basic "Classic Standard" room to the "Deluxe Suite." Amenities vary by room type and include antique headboards, views of the city skyline, a separate living and sleeping quarters, complimentary continental breakfast, refrigerator and in-room video games and movies.
Osterley Park Hotel
A landmark hotel located near the Twickenham stadium and half a mile from Gillette Corner, the Osterley Park Hotel is also just six miles away from the London Heathrow Airport and 10 miles from the center of London. Resembling a nature-inspired spa, the accommodations at the Osterley Park Hotel range from standard rooms to suites that are decorated in rich chocolate and cream colors, modern wood furnishings and decorative throw pillows. This budget hotel offers basic amenities, but also throws in free parking for guests, complimentary Wi-Fi access and a VOIP (Voice Over IP) phone system.
Croydon Court Hotel
The Croydon Court Hotel is a family-fun accommodation in a Victorian building located outside of the center of Croydon in London. Accommodations range from a single room to a room that can a comfortably sleep up to four guests. The décor at this low-budget accommodation is plain and includes shades of evergreen and white matched with wooden furnishings and floral prints. To help guests feel like they are in a bed and breakfast setting, the Croydon Court Hotel offers, in addition to its basic amenities, a complimentary full English breakfast and a gated car park.
Photo Credits
London - Tower of London image by XtravaganT from Fotolia.com