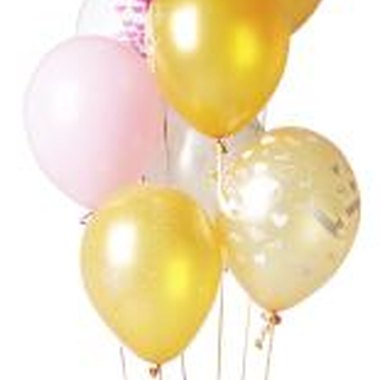 A milestone birthday is important, but the most important thing is to celebrate the birthday in a way that the guest of honor really enjoys. You don't have to throw a big bash to mark your 50th birthday; in fact, a low-key celebration allows for much more intimacy among guests and may keep costs down. Plan a chilled-out 50th birthday celebration and enjoy a relaxed atmosphere with only those closest to you.
Location
Stay away from big crowds if you want to stay low-key. Grab a dozen friends and head to another friend's backyard pool. You can play whatever music you like, mix your own drinks and catch up all afternoon while you celebrate. Or, reserve a big suite at a luxury hotel. Tell guests to come casually dressed and enjoy an evening of chatting, ordering room service and playing cards. If you want to get outside, head to an orchard and pick apples or cherries. When everyone is tired, go back to your house and enjoy old movies with popcorn.
Food
No need to have fancy hors d'oeuvres at your low-key party. Have a potluck dinner party. Create a menu beforehand and have every guest sign up to bring one item. Provide drinks. Or, host a drop-in party and have it catered with finger foods, such as chips and dip. Keeping the food casual and the party loosely structured can keep the mood casual too. If you prefer to go out to eat, choose your closest five or six friends and go out to dinner at a posh restaurant. While the surroundings and food will be luxurious, you'll be enjoying the company of close friends in a quiet, relaxed atmosphere.
Outings
Choose a few outdoorsy pals and take an overnight camping trip together. Imagine sitting around your campfire under the stars, enjoying refreshments and the company of the people who know you best. You could also rent a luxury yacht for yourself and some friends and enjoy a peaceful sunset sail and on-board dinner. Or, take your friends for a round of putt-putt. Enjoy a casual dinner and drinks afterward or head back to a friend's house for a cookout.
Themes
You don't have to go wild to enjoy a theme on your 50th birthday. If you want an elegant celebration, have a masquerade ball theme. Guests will arrived disguised and enjoy an evening of seductive mystery. If your birthday falls in the winter, have a summer-themed party. Decorate your home with inflatable flamingos and palm trees. Put plastic drop cloth on the floor and cover it with sand. Set up a tiki bar in the party area and serve summery tropical drinks.
Photo Credits
Hemera Technologies/PhotoObjects.net/Getty Images