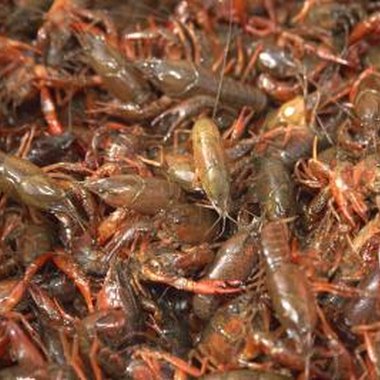 Located just 8 miles from New Orleans' French Quarter, St. Bernard Parish hosts the four-day Louisiana Crawfish Festival, a Chalmette tradition dating from 1975. The festival, which takes place in late March, is a huge event. In 2011, the festival hosted more than 100,000 people who gathered to celebrate all things "mudbug." Officials served up more than 30,000 pounds of boiled crawfish alone.
Food
As expected, crawfish is the main item on the menu; the festival offers an impressive selection of preparation methods. In addition to the simple boiled crawfish meal, visitors can try Cajun specialties, such as crawfish jambalaya and po'boys, as well as less traditional dishes, including crawfish pasta, quesadillas and fried rice. For those who aren't fans of crawfish, vendors offer other local specialties, such as etouffee, alligator and Cajun sausage. All-American classics, including burgers, barbecue and corn dogs, also are available.
Entertainment
The festival offers live music Thursday to Sunday night and during the afternoon on Saturday and Sunday. Cajun music and blues are well-represented. Past acts include August Rush, a New Orleans cover band that plays popular music. Families can enjoy rides and games at the carnival midway, which offers children's rides and clowns for the littlest festival patrons. The festival also features arts and crafts vendors, some of which sell souvenir items with the festival logo, which changes each year.
Pageants
On Sunday, the festival crowns the Louisiana Crawfish Queen and the Teen Louisiana Crawfish Queen. Contestants complete an interview and evening gown section. They also have to answer a question in front of the crowd. The festival also hosts a children's pageant on Saturday for infant to 13-year-old girls and for infant to 5-year-old boys.
Other Events
Since 2009, the Celebrate St. Bernard Pep Rally marks the opening of the festival. The rally is held on Thursday night, one hour before the first concert. The pep rally features the local high school's marching band, cheerleaders and dance team. The festival also hosts a stop on the Redfish Series fishing tour, a three-day event that awards prize money for the two largest catches.
Practical Information
Festival activities take place outside the Franklin J. Sigur Civic Center on West Judge Perez Drive, also known as Route 39, which is accessible off Interstate 10. Public transportation is not available to the festival. Visitors can purchase a single price ticket for rides; the Thursday ticket is less expensive.
Photo Credits
Jupiterimages/liquidlibrary/Getty Images