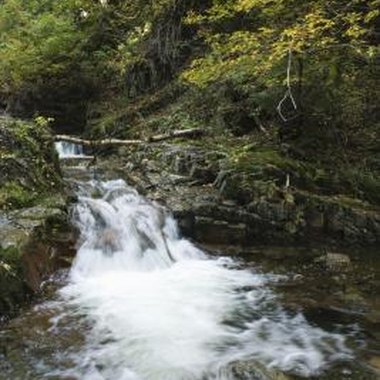 Visitors to and residents of Indiana who wish to explore the natural beauty of the state can head to Orangeville Township to see the Orangeville Rise. The rise is a spring whose source, the Lost River, flows underground through much of southern Indiana. Visitors to the Lost River Orangeville Rise in Indiana's northeast corner will have an opportunity to see the unique geography, biology and topography of the area.
Geology
The Orangeville Rise offers an opportunity to see the spot where the Lost River of Indiana begins its descent into its underground passage. After flowing through Washington County as a normal above-ground river, the river begins to sink into "swallow holes" in the riverbed in Orange County. The Orangeville Rise and the Wesley Chapel Gulf swallow holes are two Orange County sites where visitors can observe how the river begins to sink, eventually becoming a subterranean stream and underground cave system that spans more than 60 miles.
Visitors
The Orangeville Rise Nature Preserve allows visitors to glimpse the cave fauna, wooded land, watercourses and other sites that surround the Orangeville Rise. Visitors may catch sight of the northern blind cave fish, a natural inhabitant of the Lost River's waters. Hikes through the preserve allow visitors to see the base of a low cliff at which the Lost River rises to the surface, forming sizable streams. The Indiana Karst Conservancy manages the Orangeville Rise Nature Preserve.
Location
The Orangeville Rise is on the edge of the Hoosier National Forest, approximately 13 miles south of Bedford on the south side of Orangeville. The Orangeville Rise property consists of a little more than three acres of land within the town boundaries of Orangeville, Indiana. From Vincennes Road, travelers can drive south on C.R. 500 W. and park in the pull off on the south side of Orangeville.
National Natural Landmark
The Orangeville Rise is a recognized National Park Services' National Natural Landmark site. The program recognizes and encourages the preservation of natural sites that contain unique biological and geological resources. Private and public concerns hold stewardship of National Natural Landmarks, but recognition under the program confers the support of the National Parks Service in promoting the conservation of the land. The Indiana Karst Conservancy, which manages the Orangeville Rise, is a voluntary participant in the National Natural Landmarks program.
Photo Credits
Thinkstock/Comstock/Getty Images