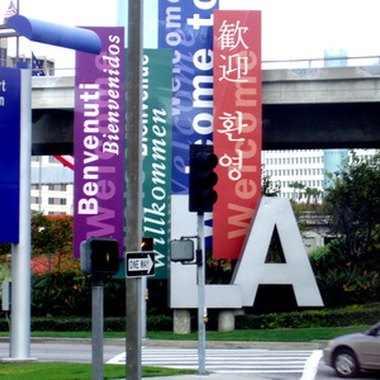 The unincorporated area of Los Angeles County sprawls over more than 4,000 square miles, with a downtown city center approximately 30 minutes from the international airport over freeway routes. Hotels on the west side of Los Angeles cater to airport travelers, and most establishments provide free or low-cost, 24-hour shuttle service for hotel guests. Visitors to Los Angeles select accommodations ranging in price from luxury at the top end to budget pricing.
Luxury Hotels
The Westin Hotel on West Century Boulevard occupies a key location only four blocks from the airport. The hotel operates regular airport shuttle services and offers amenities that include a health club, sauna and heated pool. The rooms feature original art work and black-out curtains. On-site dining includes The Daily Grill featuring fresh, classic American food favorites, and a Starbucks coffee bar serving light snacks. The Renaissance Los Angeles Airport Hotel on Airport Boulevard includes a complex of approximately 500 rooms and suites for visiting guests. The hotel offers art displays, free breakfast and a choice of 499 suites and rooms. The accommodations feature nearly 100 club suites with special business services and evening hors d'oeuvres. All guests have access to a free airport shuttle service that operates around the clock.
Value Hotels
The Travelodge Los Angeles on West Century Boulevard, at the intersection of Aviation and Century Boulevards, offers easy access to the airport and car rental offices. The AAA three-diamond hotel is located less than one-half mile from the airport and features on-site dining at Denny's restaurant and a free airport shuttle that operates 24 hours from the airport shuttle loading station. A low-cost beach shuttle is also offered from the hotel. The Holiday Inn Los Angeles on La Cienega Boulevard features more than 400 rooms, outdoor pool, and fitness and business centers. The inn also operates a free 24-hour airport shuttle service. The Landings Restaurant and Lounge provides on-site dining for hotel guests. Additional restaurants and coffee shops are less than a 10-minute drive from both hotels.
Boutique Hotel
The Custom Hotel, part of Joie de Vivre Hospitality, provides guests with an airport shuttle service arranged by request at the hotel desk. The boutique, 250-room facility, designed in the 1960s by Welton Beckett, is located less than a 15-minute drive from LAX and area beaches. Hotel evening dining options include the on-site Hopscotch Pool Bar and Grill and nearby eateries, such as Chicago for Ribs, Italy's Little Kitchen and the Sansai Japanese Grill.
Suite Hotels
The Embassy Suites Los Angeles on Airport Boulevard offers two-bedroom accommodations, free breakfast and an evening social reception. The hotel airport shuttle operates every 15 minutes, 24/7 from shuttle stations at the hotel and both levels of the airport. The Embassy features a fitness room, swimming pool and access to sightseeing tours from the hotel lobby. The Four Points LAX Hotel on Airport Boulevard, part of the Sheraton Hotel chain, offers guests the option of renting junior suites or regular rooms that feature work desks and 24-hour room service. The Four Points LAX also operates round-the-clock airport shuttles every 20 minutes. Parking for both hotels requires payment of an additional daily fee.