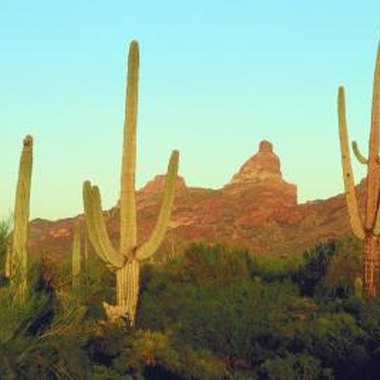 Located in Phoenix, Arizona, the Lookout Mountain Park is an attraction for those who like the idea of experiencing a scenic mountain hike in the Sonora Desert while staying in close range of a large metropolitan city. The park hosts two trails. The Circumference Trail is the easiest, making a loop around the Mountain peak. The Summit trail, although easy for a hiking trail, requires a little more effort as it climbs upward to the top of the mountain.
Getting There
Lookout Mountain Park (phoenix.gov/parks) is located at Cave Creek Road and Sharon Drive in Phoenix. To get to the trail head, drive onto State Highway 51 North and get off on the Greenway Road exit. From there, turn left and go west. The street will turn into Greenway Parkway, but continue on until you see 16th Street. Take a left turn and go south until you reach the park.
Hours and Considerations
The Lookout Mountain trails are open to the public daily from 5:30 a.m. to 11 p.m., although the gated parking area closes by 7 p.m. The trailheads have access to water, but there are no restrooms near the trails. With Phoenix weather, this trail can be used year round, but it's wise to go in the early mornings during the summer to avoid exposure to excess heat. Wear sunscreen, appropriate clothing and comfortable shoes.
Wildlife
The main wildlife that you will see on your hikes through the trails include the Desert Cottontail and Coyote. A chipmunk-sized squirrel, called the Harris' antelope squirrel, is also common throughout the park. Keep an eye out for a variety of birds. Rock wrens are often perched upon high points and Gila woodpeckers can be spotted nesting in cacti. The colorful Anna's hummingbird is also a common sight on the trails.
Plants and Trees
The trails give city dwellers the opportunity to get a closer look at many Sonora botanicals. Cacti are plentiful within the park, with the red-and-yellow compass barrel cactus being most abundant. Triangle-leaf bursage is the most common plant found in the preserve. The Foothills Palo Verde is the only tree growing on Lookout Mountain, but it is often mistaken as a shrub due to its small size.
Photo Credits
NA/AbleStock.com/Getty Images