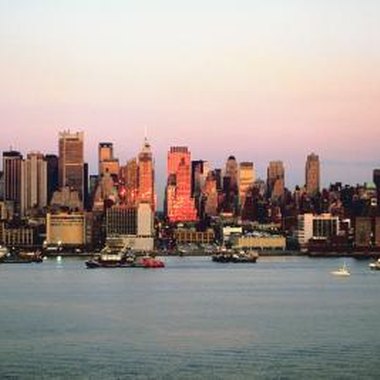 For both business and pleasure, there are few cities in the United States, if not the world, that can offer all that New York City can. From Wall Street to Times Square to world-class dining and shopping venues, the Big Apple has it all. If you're going to be in town for more than a week, you might want to consider a long-term hotel for your stay. Several options offer hotel amenities in an apartment-style setting, with luxury to spare.
The Carlyle
Named to Travel & Leisure's 2010 list of the World's Best Hotels in New York, the Carlyle has impeccable service, and fresh flowers are always on display. Located one block from Central Park on the Upper East Side, life can be a little easier at the Carlyle. Personal assistants can arrange just about anything, from scheduling a Swedish massage to making copies of a business proposal. Keep an eye out for its famous residents or just wander over to the Cafe Carlyle, where film director Woody Allen appears regularly to play the clarinet.
AKA Central Park
Recommended by Conde Nast Traveler, these accommodations are the ultimate in luxury. Entry foyers have Oriental-stone flooring, kitchens with granite counter tops and bathrooms with upscale fixtures and bath products. All within a few blocks of the hotel you'll find the famous shops of Fifth Avenue in addition to world-class museums and restaurants. AKA Central Park also offers the Live It! Program for guests to learn from experts in the fields of painting, music and the culinary arts.
Marmara-Manhattan
Studio suites as well as one-, two- and three-bedroom options are available at the Marmara-Manhattan, with stylish furnishings and modern technology. Most suites have whirlpools, washers and dryers and a private balcony, along with panoramic views of the city. Enjoy daily housekeeping services and a fully equipped kitchen plus complimentary health club privileges. The East River waterfront and all its activities are literally steps away.
Sutton Court
Located in a residential setting in Midtown Manhattan, Sutton Court offers apartment suites with spacious bedrooms and large living/dining rooms. The kitchens feature stone counter tops and stainless-steel appliances, in addition to a full set of dinnerware and cookware, and upscale toiletries can be found in the bathroom. There is a 24-hour doorman and concierge to assist you and a beautifully landscaped courtyard in which to relax when the weather allows.
Photo Credits
Jupiterimages/Photos.com/Getty Images