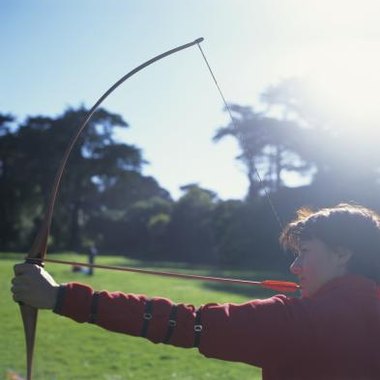 A weapon that developed hundreds of years ago as a tool of war, the longbow, is no longer needed for defense, and is more often used for sport and for hunting today. Different from a crossbow because the user pulls back and holds the string with his fingers, shooting a longbow accurately takes practice and experience. For archers in Vermont, there are opportunities to train, practice and socialize with others who use the longbow.
Training and Practice
For those in Vermont looking to hone or develop longbow skills, there are a number of facilities that help train hopeful archers. One such place is the Archery School at Equinox Golf Resort & Spa (equinoxresort.com). Located in Manchester Village, resort guests take introductory and field archery classes, and even participate in an archery tournament. There are also a number of shooting ranges in Vermont for those that simply want to practice, including ranges in St. Johnsbury, Morrisville, and Franklin.
Hunting
Many archers looking to put longbow training to the test are interested in hunting. In Vermont, there is only a certain season within which archers are legally allowed to hunt. Though the exact dates vary according to year, the season typically starts and ends within the month of October, with another week in December. The state of Vermont also requires longbow archers wishing to hunt game and deer to have an archery and hunting license in order to do so.
Clubs
There are also a few archery groups and clubs within Vermont that welcome longbow archers wishing to socialize with others who appreciate the sport. The Green Mountain Traditional Bowhunters (centralvermont.com/gmtb) is one such group. Sharing information and stories online, the group also gets together periodically for longbow practice, events and hunting. There are also competitive groups across the state, including some in Washington, Randolph and Barre.
Gear
Longbow archers in the state who are looking for gear also have many options. One of the best options is Pelkey's Archery Inc. (pelkeysarchery.com), which is a pro archery shop in St. Albans that is devoted to archery. Offering longbows for all ages and skill levels, Pelkey's even has training classes, leagues and an indoor shooting range.
Photo Credits
Kim Steele/Photodisc/Getty Images