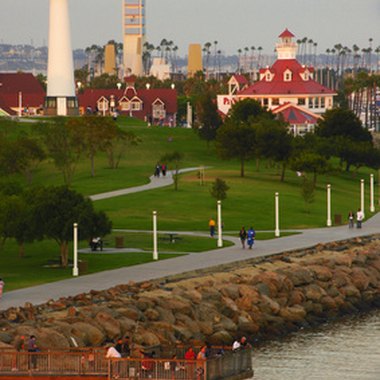 The industry-friendly City of Long Beach bustles with activity, with massive cruise liners charging through the busy harbor, freeway cars whizzing to and from the nearby Los Angeles International Airport and jumbo jets lumbering across the Southern California sky. A portal to Los Angeles, Long Beach also serves as a travel hub for large cargo ships, a gateway to Catalina Island and family-friendly vacation destination with its aquarium and museums. Staying at a hotel near the Long Beach Harbor can provide convenient access to the marine district's offerings.
Cruise Access
Some Long Beach visitors remain in town during the night before and after vacation cruises, so staying near the Long Beach Harbor makes sense. The AVIA Long Beach Hotel frequently offers money-saving packages for cruise ship travelers including free parking during the cruise and complimentary bottles of champagne. AVIA has free Internet, a 24-hour fitness center and a rooftop pool with cabanas. Travelers interested in a short boat ride before their cruise can book gondola rides or water taxis through the hotel. Scouting out the historic Queen Mary ocean liner, less than a mile from the hotel, is a fun way to prepare for the cruise.
Boutique
Varden Hotel, a Long Beach boutique hotel near the harbor, has roots dating back to the 1920s and still contains the original hotel's front desk. White leather furniture and limestone lobby floors bespeak a glamour befitting the hotel's namesake Dolly Varden, a one-time circus performer and jewelry aficionado who lived in the penthouse during the 1930s. Earth-friendly touches include airshafts converted to natural light sources and water-saving toilets and showers. Rooms feature designer mirrors, custom furniture, flat screen high-definition TVs and marbled tile bathrooms. Guests can access free Internet, continental breakfast and discount rates at the nearby gym.
Business-Friendly
Not all Long Beach travelers arrive to sample the city's tourist attractions. The proximity to both Los Angeles and Orange County transportation hubs makes the city a resting place for business travelers. Guests who require access to business-friendly amenities may stay at the Hilton Long Beach & Executive Meeting Center, which offers rentals for audio, visual and paging equipment, secretarial services and access to meeting rooms, photocopying services and a notary public. Office rentals are available, and the hotel is within three blocks of the Long Beach Convention Center. The on-site Ascari Restaurant has comfortable, intimately grouped seating appropriate for business meetings.
Recreation-Friendly
The Hyatt Regency Long Beach on South Pine Avenue has the advantage of access to the Long Beach harbor and the city's bustling shopping district. Walk across the street to The Laugh Factory comedy club, grab some fish tacos and margaritas at a South Pine Avenue taqueria or head to Long Beach's Aquarium of the Pacific. The hotel offers a heated pool, hot tub, fitness center and can coordinate baby-sitting services for guests.