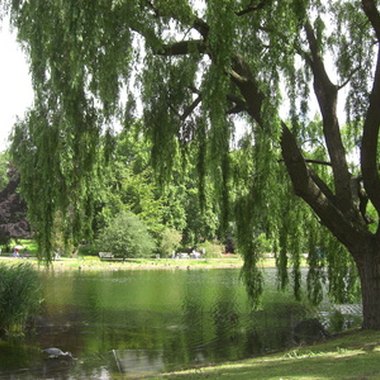 London's Norfolk Square is built around a pleasant garden with lawns, flowerbeds and mature trees. The square includes19th-century, white-stuccoed houses originally built as grand family homes, but over the course of the 20th century many became hotels. Budget hotels predominate, although there are some mid-range options. The square is a three-minute walk from Paddington Station, which provides fast connections around the city via the London Underground, as well as mainline services to Wales and the west of England.
Belvedere Hotel
The family-run Belvedere Hotel overlooks Norfolk Square, and the property retains some of its original features, such as fireplaces. The rooms at this budget option all have private bathrooms and modern furnishings. A full English breakfast is included in the room rate. For other meals, nearby restaurants include Kam Tong, which serves authentic Chinese food, and the Kalamaras Taverna, serving Greek dishes. Both are a 10-minute walk from the hotel, as is the Whiteleys shopping mall, set in a splendid former department store from 1913.
The Ashley Hotel
Set on the south side of Norfolk Square, the Ashley Hotel is another budget option. The hotel's rooms are compact with basic furnishings, and room rates include a continental breakfast. Portobello Road Market is 15 minutes away by bus and is best visited on a Friday or Saturday when its antiques, clothes and food stalls are all open. Restaurants within a 15-minute walk include Khans, serving Indian food, and the Mandarin Kitchen, a Chinese restaurant specializing in seafood.
The Norfolk Plaza Hotel
The Norfolk Plaza Hotel is mid-range option housed in three of Norfolk Square's fine Edwardian buildings that have been converted into one property. The hotel has a bar and a breakfast room. Hyde Park's 350 acres of green space, including the Serpentine, where rowing boats are for hire, are a 10-minute walk away. The fine dining of Le Cafe Anglais, which serves an international fusion menu, and the Lebanese cuisine of Al Waha are both within a 20-minute walk of the hotel.
Hyde Park Court Hotel
Considering its central location, Norfolk Square's Hyde Park Court Hotel charges reasonable room rates. The hotel features an on-site restaurant, the Mughal, serving Indian dishes. A few steps away is the Sir Alexander Fleming pub, named for the discoverer of penicillin who worked at St Mary's, just across the street, and still a working hospital today. See a different side of London by walking the 20 minutes to the Grand Union Canal at Little Venice, with its many houseboats and a regular canal boat service that travels to London Zoo.
Photo Credits
London - Hyde Park image by XtravaganT from Fotolia.com