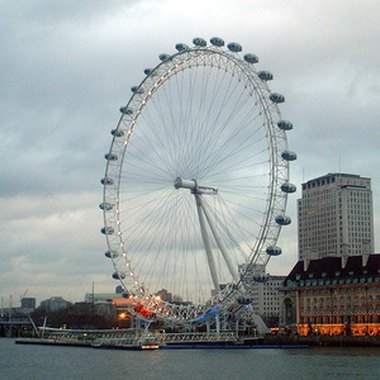 Whether you desire an ultramodern suite with views of the River Thames or accommodations in the heart of Trafalgar Square, there are several hotels near the London Eye to choose from. The hotels provide a perfect base to explore the Greater London area due to their proximity to cultural sites and London Underground subway stations, which provide access to the city center, world-class shopping on Oxford Street and London Heathrow Airport. The properties also offer a range of amenities for business and leisure travelers.
The Grand at Trafalgar Square
Nestled within a half-mile from the London Eye, the Grand at Trafalgar Square is an ornate boutique hotel near several tourist attractions. The hotel is steps away from Charring Cross; Big Ben, Trafalgar Square, home to Nelson's Column monument, public fountains and feral pigeons; and the Embankment Underground subway station, which provides access to the London Eye. The hotel features an elaborate entry hall adorned with intricate ceiling work, marble floors, chandeliers and stained glass windows. Accommodations consist of traditional guest rooms with cordless telephones, complimentary Wi-Fi access and chilled bottled water; and dining at Boyd's Bar and Brasserie, a casual eatery serving English cuisine.
The Mad Hatter Hotel
The Mad Hatter Hotel is a moderately priced boutique hotel within a half-mile of the London Eye. The property is also near Tate Modern art gallery, the River Thames, the Warterloo Railway Station and BFI Southbank, a repertory movie theater that screens independent, classic and international films. The property's architecture dates back to the early 19th century when it served as a hat factory. Accommodations consist of traditionally decorated guest rooms with warm tones and complimentary Wi-Fi access. Hotel dining options consist of an on-site restaurant serving a generous breakfast buffet, English pub dishes, specialty pies and an assortment of ales.
Travelodge London Waterloo Hotel
Travelodge London Waterloo Hotel is a no-frills budget property near the South Bank of the River Thames, and within a half-mile of the London Eye. The hotel is also minutes away from Tate Modern, the Imperial War Museum and Waterloo Underground subway station. Accommodations consist of standard guest rooms with private baths and larger family rooms with pull-out sofas. The hotel does not provide complimentary toiletries; however, it does sell them at the front desk. Dining options consist of a full-service restaurant that offers a breakfast buffet, fast foods, beers and cocktails.
Park Plaza Westminster Bridge London
Park Plaza Westminster Bridge London is a fashionable South Bank hotel within several blocks of the London Eye, Sea Life Aquarium, the River Thames and Waterloo Underground subway station. Accommodations consist of contemporary guest rooms that include platform beds, hardwood floors and large closets decorated with oversized photographs. Guest suites offer multiple bedrooms, kitchenettes, sofa beds and panoramic views of South London, the London Eye or Big Ben. Hotel highlights include a full-service spa; a 15-meter pool; "Ichi Sushi and Sashimi Bar," which overlooks Big Ben; and "Brasserie Joel," a gourmet eatery serving up roast duck, NY strip steaks and roast turbot.
Photo Credits
london eye at sunset image by Adam Edwards from Fotolia.com