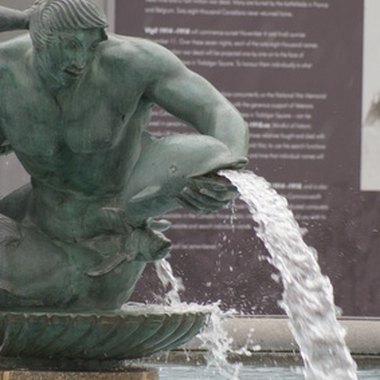 For visitors looking to experience the hustling and bustling streets of London, a hotel at Trafalgar Square is a perfect location. In the heart of the city, within walking distance to many major tourist sights, it provides guests a convenient starting position for exploring the city center. Most of the hotels around Trafalgar Square feature up-scale services and design, allowing their guests to relax and recoup in a comfortable setting after a busy day sightseeing.
The Grand at Trafalgar Square
The Grand at Trafalgar Square is housed in a historic, landmark building right at the Trafalgar Square. The former Jacobean mansion opens to a sophisticated interior that combines antique and modern design elements. Marble wall paneling, stucco ceilings and parquet floors lead to guest rooms and suites. The rooms feature a contemporary design with warm, natural colors, plush armchairs, exquisite fabrics and modern art. Hotel facilities include a fitness room and a bar brasserie serving breakfast and international cuisine in a stylish setting with Italian marble wall paneling, designer furniture and chandeliers.
Hilton Hotels The Trafalgar London
Guests at the Hilton Hotel The Trafalgar London sleep in a historic building with high ceilings and large panorama windows. Their rooms feature a chic, modern atmosphere with leather chaise lounges, designer lamps, hardwood floors and lacquered-wood bed frames. Some rooms come with views of Trafalgar Square. An on-site fitness room invites guests to work out after a day of sightseeing. The hotel's restaurant serves a continental breakfast and international and Mediterranean cuisine in a modern setting. The hotel also features a bourbon bar and a rooftop terrace bar with sweeping views over London.
Guoman Hotels Charing Cross
Guoman Hotels Charing Cross puts guests in a magnificent location one block from Trafalgar Square. The 19th-century landmark building with an antique glass, all-season patio is an example of the industrial architecture of the Victorian railway age. High ceilings, chandeliers, stucco walls and antique furniture bestow an impression of grandeur to its interior. The guest rooms and suites feature a comfortable setting and come with contemporary furniture, plush couches and warm-colored textiles. On-site dining choices include a restaurant serving gourmet cuisine on the all-season patio, an English tea lounge and a bar. The hotel offers a limousine transfer from the airport.
Radisson Edwardian Leicester Square Hotel
The Radisson Edwardian Leicester Square Hotel is situated at Leicester Square, just steps from Trafalgar Square. This 60-room boutique hotel features an artsy interior with designer furniture, art prints and extravagant collectibles. Guests sleep in rooms and suites that come in warm colors with leather wall paneling, exquisite textiles and granite baths. The hotel has a restaurant serving modern British cuisine and seafood specialties in an elegant room decorated in beige hues with modern armchairs and abstract art. An on-site gym and in-room spa treatments offer relaxation opportunities.
Photo Credits
Fountains of Trafalagar Square image by Daniel Mortell from Fotolia.com