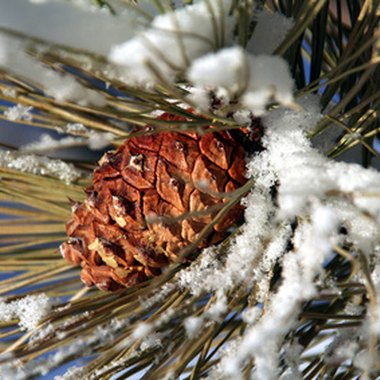 Visitors to Grand Canyon National Park often use Williams, Arizona -- home of the Grand Canyon Railway -- as their base camp. Williams is a town large enough to have services and amenities for visitors, and it is situated less than 60 miles from the Grand Canyon's south rim. In-town lodgings include chain hotels and motels. The town also affords visitors independent lodging choices, including several that are one of a kind, historic, unusual and just plain fun.
Operating Since 1891
The Grand Canyon Hotel on Historic Route 66 in Williams, Arizona -- at an elevation or 6,762 feet -- is located two blocks from the Grand Canyon Railway station. The hotel's 25 rooms, each uniquely decorated and each without a television, include dorm rooms, private rooms, suites and a cottage. Seven of the rooms are interconnected, and the entire hotel can be booked for events such as reunions. Free wireless Internet access is available within the hotel for registered guests. The hotel restaurant, Dara Thai Cafe, is open for lunch and dinner Mondays through Saturdays.
1940s Cottages and Railroad Cars
Canyon Motel & RV Park is nestled among Ponderosa pines. The motel has a theme centered on Historic Route 66 and the history of the Santa Fe railroad. Guest accommodations address the theme. A lodge building has 18 flagstone cottage rooms with mountain views that were originally built in the 1940s. Additionally, guests can sleep in authentic rail cars, either in one of the two 1929 Santa Fe Railway Caboose suites or a spacious, multi-room 1950 classic Grand Canyon rail car.
Bed and Breakfast in the Pines
The Sheridan House Inn is close to town and yet surrounded by a large stand of Ponderosa pine forest. The secluded property on two wooded acres gives guests an opportunity to take walks among the trees and work up an appetite for the full gourmet breakfasts. Each guest room provides a sampling of chocolates to guests, and each contains a refrigerator stocked with soda, juices, and water. All are non-smoking rooms. In room entertainment includes cable television and stereo music systems; some rooms have DVD players. Guests can borrow music and movies from the inn's library or bring their own. The common areas include a piano and pool table in the entertainment room, along with porches, decks and flagstone patios.
In-Town Motel with Boutique Hotel Touches
The Lodge on Route 66 in the heart of Williams, Arizona, has only nine single rooms and nine suites. It is located within walking distance of the train station, the historic district, shops, restaurants, parks and night life. Recent renovations to the motel include the addition of travertine stone and wood floors, furniture of solid wood, and upgraded bathroom countertops and plumbing fixtures. Linens on pillow-top mattress beds are all premium cotton. Guests can sit and take in the sights along Route 66 by the outdoor gas fireplaces.
Photo Credits
ponderosa pinecone image by Mike & Valerie Miller from Fotolia.com