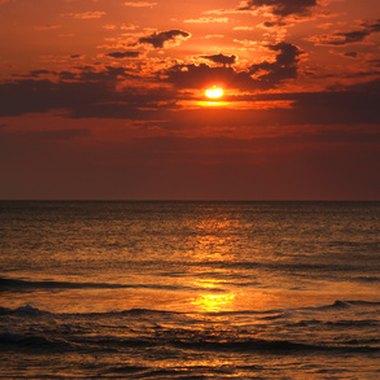 Virginia Beach is part of a metropolitan area encompassing Newport News, Norfolk and Chesapeake. Multi-story apartment buildings and hotels line the boardwalk and vacation homes are steps from the shore. Some rentals are seasonal, and rates soar in the summertime. Restaurants and shops line Atlantic Avenue, the main road along the beach.
Cabins and Cottages
First Landing State Park, on the waterfront north of Virginia Beach, rents reasonably priced two-bedroom cabins within a short walk of Chesapeake Bay. The park, the most visited in Virginia, has swimming beaches and 20 miles of trails. All the cabins come furnished with the basics and have porches and barbecues. The park also rents secluded campsites set on treed lots. Located about three blocks from the beach, Ocean Cove Motel rents three-bedroom, two-bath cottages with full kitchens and front porches on a weekly basis.
Condos
Edgewater Condominiums in the northern part of Virginia Beach have two bedrooms and two full baths. Balconies overlook the ocean and an outdoor pool is open seasonally. Kitchens are equipped with the basics and the apartments have a small supply of linens. Laundry facilities are nearby. Condos at Edgewater rent by the week or month. Four Sails Resort, also on the north end of the beach, offers one- and two-bedroom condos and three penthouses. Oceanside units feature balconies, whirlpool tubs and full kitchens. Four Sails' boardwalk café, open for breakfast, lunch and dinner, serves casual fare.
Cutty Sark Motel & Historic Cottages
Cutty Sark Motel, a member of Small Elegant Hotels of the World, isn't directly on the water so rates are more reasonable than at oceanfront properties. Located in the heart of the Atlantic Avenue shopping district just one block off the beach, Cutty Sark offers efficiency rooms with kitchenettes and large balconies. Rooms have either two queen beds or one queen and a sleeper sofa. A heated swimming pool has a Jacuzzi bench. Cutty Sark also rents beachfront cottages on a weekly basis.
Ocean Beach Club Resort
Ocean Beach Club Resort, a luxury property located on the Boardwalk, offers both standard rooms and suites. Contemporary Caribbean décor carries throughout the common spaces and rooms. Three seaside swimming pools, including one with a tiki bar, a game room and state-of-the-art fitness center provide recreation, and a café serves casual food. Oceanfront rooms and suites have large windows and balconies with dining areas. Upscale kitchens in suites come fully equipped and bathrooms feature black granite, dual sinks and Jacuzzi tubs.
Photo Credits
the sunrise at virginia beach image by Gary from Fotolia.com