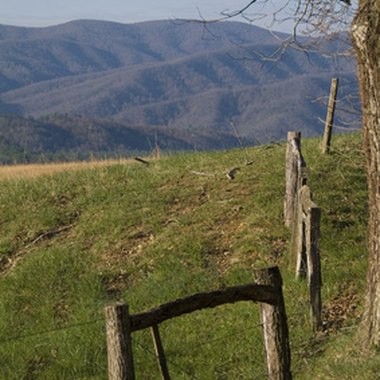 From fog-shrouded mountains to abundant deer, Great Smoky Mountains National Park offers plenty of sights for the nature lovers among us. This area that straddles the Tennessee-North Carolina border is low on indoor lodging options but features several campgrounds with hundreds of campsites and RV parking spaces. Many hotels and motels can also be found just outside the park's borders.
Lodges
The only indoor accommodations within the park are at LeConte Lodge, and it can only be accessed by foot or horseback. This peaceful gathering of cabins sits near the peak of Mount LeConte, one of the highest mountains in the park. Seven small cabins sleep up to four people each, while three multi-room lodges comfortably house up to 12 people each. Each cabin or lodge comes equipped with linens, lanterns and propane heaters and features a front porch with rocking chairs.
Camping
The park offers both backcountry camping areas for hikers and frontcountry camping in 10 locations for those who don't want to venture far from the comfort of their vehicles. The largest and most popular campgrounds include Cades Cove, Elkmont, Cosby and Smokemont. Visitors can reserve campsites at these campgrounds between May 15 and Oct. 31. The National Park Service recommends that you secure your spot in advance because the campgrounds often fill up in the summer.
Nearby Lodging
Plenty of motels and hotels, as well as RV parks and campgrounds, are located in bedroom communities just outside the park. The most popular jumping-off points are Gatlinburg, just north of the park on Highway 441, and Pigeon Forge, a few miles north of Gatlinburg. Both offer plenty of lodging options as well as well-visited attractions such as Dollywood and Ripley's Believe It or Not. The Cherokee Native American reservation southeast of the park offers plenty of places to stay, as does the sleepy burg of Townsend to the northwest.
Considerations
It frequently snows in the Smokies in the winter, making the curvy Highway 441 -- the only road that travels through the park -- treacherous if you get caught on the other side of the park from where you are staying. Check weather forecasts if you plan to travel in the winter. Store your food in a food locker if you plan to camp in the park. The smell of food often attracts bears -- even rations that are stored in cars.
Photo Credits
smoky mountains and rolling meadow image by Jorge Moro from Fotolia.com