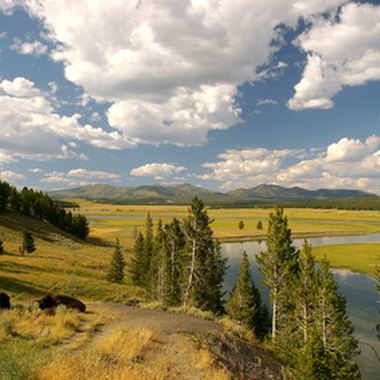 The gateway to the Yellowstone National Park North Entrance is the town of Gardiner, Montana. Gardiner is the original entrance and the only year-round entrance to the park. The Yellowstone River, the longest undammed river in the U.S., runs through the middle of town. Lodging outside the park boundaries is available in Gardiner and nearby settlements. Lodging inside the park close to the North Entrance is available near Mammoth Hot Springs.
Near and Nonsmoking
The Comfort Inn Yellowstone North in Gardiner is located one-half mile from the Yellowstone Park North Entrance and only one mile from the Roosevelt Arch. Restaurants and shops are within walking distance. The 77 nonsmoking guestrooms feature mountain views and free wireless high-speed Internet access. There are three indoor hot tubs for guest use. A complimentary hot breakfast is offered from June through September. The hotel is open summer and mid-winter, so visitors are advised to check for seasonal closure dates. This Comfort Inn gets a two-star Mobil Travel Guide rating, a designation that means it is "considered a clean, comfortable and reliable establishment, but also has expanded amenities, such as a full-service restaurant on the property." The same source also commends this hotel as "Ideal for: Family Friendly."
Near and Extra Kid Friendly
The Travelodge Yellowstone Park North, a four-story rustic log building with an elevator, was built in 1998, making it a relatively new Gardiner hotel. It is located less than one mile from the Yellowstone National Park north gate. As a convenience for families visiting Yellowstone, the hotel laundry area is spacious; plenty of machine availability can help guests get the laundry done fast to leave more time for exploring. The Kids Arcade can entertain youthful family members and give parents a breather. All rooms have a refrigerator, so guests can keep a stash of road snacks and picnic fixings to supplement dining out. Complimentary continental breakfast is provided. Pets are not permitted. Rooms also have wireless Internet access and satellite television. Nonsmoking rooms are available. The hotel offers free bus and RV parking.
Near and Pet Friendly
Super 8 Gardiner/Yellowstone Park Area in Gardiner makes a solid and affordable base camp. The motel is located near the North Entrance and close to restaurants and shops. It offers an indoor heated pool, free high-speed wireless Internet, satellite television, disabled access guestrooms, nonsmoking rooms, RV and truck parking and a free continental breakfast. The priceless views of mountain scenery from the motel's redwood deck are free to all guests. Pets are permitted with restrictions and a fee.
Right on a Thermal Spring
Thirty-three miles and 36 minutes from Gardiner is Chico Hot Springs Resort and Day Spa. Chico has a variety of lodging choices covering a vast spectrum of prices. A stay at Chico Hot Springs includes access to natural open-air mineral hot spring pools with temperatures varying from about 96 degrees to 103 degrees Fahrenheit. Restaurants, a saloon and entertainment round out the Chico experience.
Near and Inside Yellowstone
Mammoth Hot Springs Hotel, at about 6,200 feet elevation, is near the North Entrance and inside Yellowstone National Park. Xanterra Parks & Resorts is the in-park concessionaire that offers accommodations along with dining, shopping and other in-park services. The nonsmoking hotel is open summer and mid-winter with seasonal closures for periods of time. It is important to check with Xanterra for seasonal availability. Winter and summer accommodation options differ. Hotel rooms usually provide two queen beds and telephone, and bathrooms may have a tub or shower. Some rooms may access a shower down the hall, and in-room bathroom facilities may be limited. The hotel has only two suites. Disabled access rooms may be available on a limited basis. Television, radio and Internet access are not available. Elk herds, protected inside Yellowstone National Park, are frequent visitors on the grounds.