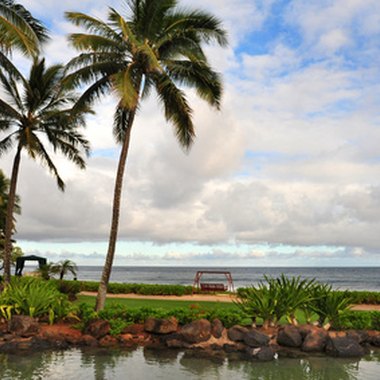 Shake, don't stir. Pour the resulting mixture of emerald greens, bold reds and electric yellows over a lava landscape so infused with iron that the soil itself is a rich, deep brick color. Surround your creation with the deep blues of the Pacific and the white slap of waves on sand. This is Kauai. Man has left his somewhat tempered mark. Manicured golf courses, posh resorts and more modest hotels dot the island. But the rule is that no building may be taller than a coconut tree. On this Hawaiian island, Mother Nature remains queen.
what is a fallback
Princeville–Hanalei
Kauai's north shore has two faces. Sleepy Hanalei is the Hawaii that time forgot. Farmers slosh through marshy fields to plant taro, and local fishermen drop their lines off of Hanalei Pier. Local artists, some of them obvious throwbacks to the hippie days of the 1960s, display their wares in galleries housed in clapboard storefronts. Then there is Princeville. Tee off on undulating golf greens overlooking the Pacific and then treat your inner comfort creature with a stay at the St. Regis Princeville. Think of it as New York style and service with a Hawaiian twist. Choose the Bali Hai Signature Suite and gaze out at the mountain made famous in the musical "South Pacific." The Cliffs at Princeville, so named because of the property's perch on cliffs overlooking Hanalei Bay, is a condo option with full kitchens, 22 acres of manicured grounds and hotel-like amenities.
Lihue–Coconut Coast
The eastern part of Kauai is known as the Coconut Coast. One way to explore this part of the island is on two wheels. An outfit called Coconut Coasters rents bikes for all ages, including covered trailers for infants and small children that attach to adult bikes. Ride the paved trail that runs all the way from Baby Beach to Kealia with a picnic stop at Lydgate Park. Moderately priced properties, such as the Islander on the Beach, offer oceanfront studios and hotel rooms surrounded by lush lawns and groves of coconut palms. Take a swim in the oceanfront pool or arrange for a massage in a thatch-roofed treatment room with a view. For more deluxe accommodations, try the Marriott's Kauai Beach Club, just south of the Lihue Airport on Kalapaki Bay. Relax in the resort's huge Roman-style pool or in one of the hot tubs, each housed in its own pavilion.
Poipu Beach
Sunny, family friendly and offering some of the most swimmable beaches on Kauai, Poipu Beach is the most developed part of the island. Mega resorts exist, but because of the coconut tree rule, they are low-rise and spread out. A good example is the Grand Hyatt Kauai Resort and Spa. Sitting beachfront at the northern end of Poipu, it is a dream destination for families as well as those seeking romance. Grab a floating chair and ride the lazy current of the river pool past waterfalls and hidden grottoes. If you feel like a bit more action, zip down the 150-foot water slide or rent a kayak or some snorkeling gear and take to the on-site saltwater lagoons. You have your choice of condos as well, such as the Kiahuna Plantation at the western end of Poipu. Stay in your own one- or two-bedroom suite surrounded by expansive lawns and island flowers and fronted by a long, wide beach.
Waimea
The town of Waimea is the gateway to Waimea Canyon. For most visitors to Kauai, this is just an interesting place full of sugarcane fields, quaint cottages and the occasional old Hawaiian church made of hewn lava rocks. The Waimea Plantation Cottages, on the edge of the cane fields, give you the chance to experience the Kauai of the early to mid 20th century. Stay in a one-time cane worker's cottage, complete with antique furnishings and, in some cases, an old claw-foot tub. Yes, you will still have your TV and your phone, but you may also end up with an oceanfront cottage with a hammock on the front porch and nothing between you and the waves but a stretch of lawn and sand. The on-site Hideaway Spa and the Waimea Brewing Co. restaurant add a bit of rustic luxury to your stay. Take advantage of the private chef service and enjoy a romantic dinner for two on your cottage lanai or anywhere on the resort grounds.
Photo Credits
kauai,Hawaii Poipu Beach image by W.Scott from Fotolia.com