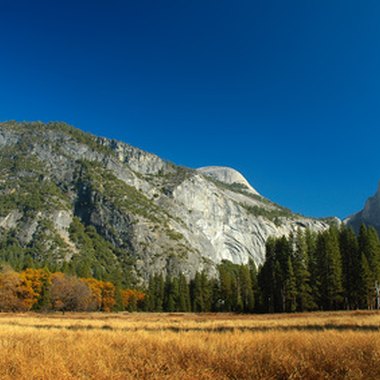 Even though Yosemite is a national park, there are a handful of lodging choices for those who want to experience the great outdoors without having to hitch a tent. While camping might be a more affordable vacation option, lodging at a Yosemite Park accommodation allows visitors to visit the area year-round. Many of the accommodations do not have air-conditioned rooms, and none allows pets. DNC Parks & Resorts is the park's main concessioner.
The Ahwahnee Hotel
One of the classic, historical national park hotels, the Ahwahnee Hotel was built in the late 1920s and incorporates art deco, Middle Eastern and Native American-inspired architecture. This accommodation is one of the more expensive lodging choices in Yosemite Park. Guests typically reserve standard rooms, parlor rooms, cottage rooms or suites several months in advance so that they can get a chance to have a room with a view of the granite walls of the mountains and take advantage of the hotel's central location in the Yosemite Valley. The Cottage Rooms are not air conditioned, but there is free parking, Wi-Fi and a heated outdoor pool.
Yosemite Lodge at the Falls
With rooms that resemble those at a hotel, the Yosemite Lodge at the Falls is a popular, budget-friendly accommodation and the closest lodging to Yosemite Falls. The glass windows and wood details of the lodge help guests feel as if they are one with nature, as the landscaping includes native wildflowers, shrubs and trees. In April 2010, the Yosemite Lodge opened its first green rooms, which are LEED (Leadership in Energy and Environmental Design) and Energy Star certified.
Wawona Hotel
A national historic landmark and the oldest mountain resort in California, the Wawona Hotel is a classic lodging option housed in a Victorian-style building between the Yosemite Valley and the Mariposa grove of giant sequoias. The Wawona Hotel is an older European-inspired accommodation with rooms that resemble those at floral-decorated bed and breakfast. Only 50 of the 104 guest rooms have their own bathrooms; the others share central baths. The Wawona Hotel is perfect for those truly looking for an escape from civilization, as the rooms also do not have televisions or telephones.
Curry Village in Yosemite
Created by David and Jenny Curry in 1899 as an affordable place for Yosemite Park visitors to rest, the Curry Village now offers hotel rooms, cabins with private or central baths and canvas tent cabins. These low-budget accommodations also offer views of Yosemite Park's Half Dome and Glacier Point. Guests who visit in winter will find an outdoor ice skating rink. Campfires are not allowed, but guests will find many nearby dining choices and picnic areas.