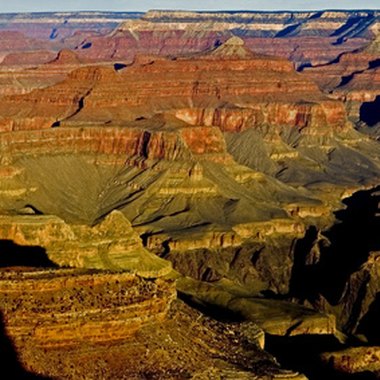 Grand Canyon National Park covers a massive 1,218,375 acres in northwestern Arizona. This natural wonder features spectacular scenery that pictures do not capture. The heart of the park is Grand Canyon Village on the South Rim. Start planning your Grand Canyon trip up to 13 months in advance, since lodging and activities fill up early. Select Grand Canyon Village lodging depending on the location or accommodations desired.
El Tovar Hotel
The El Tovar Hotel is located on the rim of the canyon in Grand Canyon Village. The hotel, a national historic landmark, first opened in 1905 and provides deluxe accommodations. This stylish hotel offers guest services the other lodging options do not, such as turn-down service, concierge, room service and fine-dining restaurant. Room types include standard and deluxe rooms or suites with separate bedrooms, sitting rooms and the option of porches or balconies.
Bright Angel Lodge
The Bright Angel Lodge provides a more rustic atmosphere and a variety of accommodations. Also a national historic landmark, Bright Angel is situated on the rim of the canyon. The lodge features standard rooms; suites; and three cabin types, including rim, rim with fireplace and historic. Dining options on-site consist of the Arizona Room, the Bright Angel Bar and the Bright Angel Restaurant, which are open all year, plus the seasonal Canyon Coffee House and Bright Angel Fountain ice cream shop.
Kachina and Thunderbird Lodges
The Kachina Lodge and the Thunderbird Lodge are located on the canyon rim in between the El Tovar Hotel and Bright Angel Lodge. These modern lodges offer limited canyon views in some of the rooms and are well suited for families. All rooms include refrigerators, coffee machines and private baths. Guests staying in either lodge may access the dining options of Bright Angel or El Tovar, which are within walking distance, and choose from either canyon-side or street-side guest rooms.
Maswick and Yavapai Lodges
Maswick Lodge sits a quarter-mile from the rim in a western wooded area of Grand Canyon Village and offers two kinds of motel-type rooms year-round and cabins during the summer season. Dining options include a cafeteria. The Yavapai Lodge, located on the eastern side of Grand Canyon Village in a wooded area, is about a half-mile from the rim. This lodge offers two modern room types and is near park services, such as a store, visitor center, bank, post office and the seasonally open Canyon Cafe.
Photo Credits
Grand Canyon 5682 image by St Clair Photography from Fotolia.com