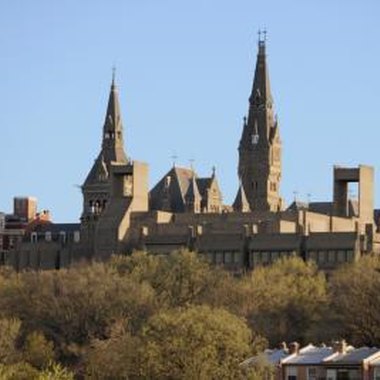 Georgetown is a stately, hugely popular neighborhood of Washington, D.C., full of restaurants, shops, and its crown jewel, Georgetown University. It's easy to walk downtown from here, enjoying the lovely architecture of the campus, mansions and town homes as you pass by, or you can catch a bus or taxi very easily.
Georgetown University Hotel and Conference Center
The Georgetown University Hotel and Conference Center is nestled in among the buildings of this Renaissance-inspired walled campus, so guests are very much part of the Georgetown University scene. The hotel is right around the corner from shops and several restaurants, and the conference center is a popular place for Washington gatherings. Former President Bill Clinton is a Georgetown alumnus, and he often speaks on campus. The conference center can accommodate a crowd of up to 1,600. The hotel restaurant, The Faculty Club, has a Washington power-broker look to it, and many other dining options exist on campus. The 1789 Restaurant, with its elegant country-inn decor and equestrian prints, is just off campus.
Georgetown Inn
The Georgetown Inn, a six-story, mid-priced boutique hotel, sits right in the middle of the shopping and dining action on tony Wisconsin Avenue. The hotel has 96 rooms, including 10 two-room suites with private sitting areas. The hotel's restaurant, the Daily Grill, serves American bistro fare. The attractive dark-paneled lobby is reminiscent of a private club.
Latham Hotel
The historic Latham Hotel sits in the heart of Georgetown. The Latham has 133 guestrooms and a seasonal rooftop pool, and houses the award-winning Citronelle Restaurant. Citronelle's chef, Michel Richard, has been named a James Beard outstanding chef, and the restaurant has also won the James Beard award for outstanding wine service. This attractive Georgetown landmark is within walking distance of the Foggy Bottom/George Washington University Metro stops, Georgetown University and downtown.
Georgetown Suites
Georgetown Suites is also well situated in Georgetown. This 220-suite hotel, which is actually in two buildings half a block from each other, offers several room options, all with a full kitchen. Nightly and extended stays are available. The modern European-inspired suites are large and attractive, with views of Georgetown's rooftops, the John F. Kennedy Performing Arts Center and the Georgetown Waterfront, depending on the building you choose. There is no restaurant, but a complimentary breakfast is offered each morning. Meeting space is available for groups.
Photo Credits
Medioimages/Photodisc/Photodisc/Getty Images