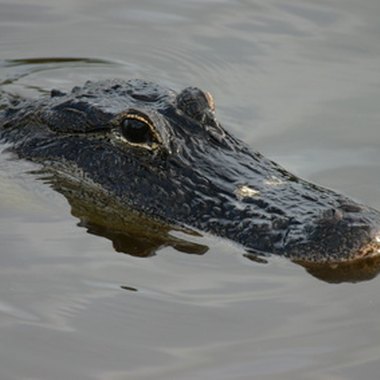 Everglades City, a mangrove island less than a mile in length, is the disembarkation point for exploring Everglades National Park, the only watery world of its kind in America. Lodging in Everglades City ranges from basic motel rooms to waterfront villas, but all are within minutes from the Gulf Coast Visitor Center -- gateway to the Everglades's Ten Thousand Islands. The area provides visitors with dramatic backcountry for fishing, canoeing, kayaking and exploring the area's immense biodiversity, including the alligator. The best time to visit the Everglades is November to April, when the heat and mosquitoes are subdued.
The Ivey House
The family-owned Ivey House is a mainstay for visitors to Everglades National Park. The lodge, with its designation as a Florida Certified Green Lodging, has assisted in maintaining an ecofriendly approach for tourism to the area. The lodge's Conch architecture, canoe and kayak rentals, and guided trips into the Everglades combines to make this a one-stop destination for tourists. The Ivey House features an inn, lodge and cottage. The inn provides 18 rooms surrounding a pool and garden. The lodge was originally built in the 1920s, providing basic accommodation without televisions or phones. The cottage has two bedrooms with a full kitchen, making it ideal for families. The Ivey House offers packaged tours for guests.
Captains Table Hotel
With a private boat ramp and ample trailer parking, the Captains Table Hotel is perfect for guests wanting to explore the mangrove waterways of the Everglades. The property provides standard hotel rooms and apartments. Rooms are equipped with two double beds, televisions and mini-fridges. The one- and two-bedroom apartments provide full kitchens, family rooms and private parking. The Seafood Depot, built within the confines of an 1920s train station, provides a full-service restaurant for guests. The staff provides tours, from backcountry fishing to park service ecotours.
Everglades City Motel
Everglades City Motel provides generously sized rooms in the center of Everglades City. The motel offers two room types: standard and efficiency. Standard rooms provide two double beds, full-size fridges and microwaves. The efficiency is similar to the standard room, but includes a dual-burner stove, and all necessary pots, pans and utensils. Guest can book all Everglades tours at the motel's front desk.
River Wilderness Waterfront Villas
Situated on a waterway that leads into the Everglades, River Wilderness Waterfront Villas provides the perfect location for outdoor enthusiasts. At the foot of your private villa are opportunities for fishing, birdwatching, canoeing and kayaking the Everglades' rich waters. Villas, available for daily, weekly and monthly rental, are apartment-style with waterfront balconies, kitchens, one or two bedrooms, and living area. Rates include continental breakfast. The property provides a swimming pool, free canoes, a boat ramp and ample parking for trailers.
Photo Credits
alligator in everglades image by Earl Robbins from Fotolia.com