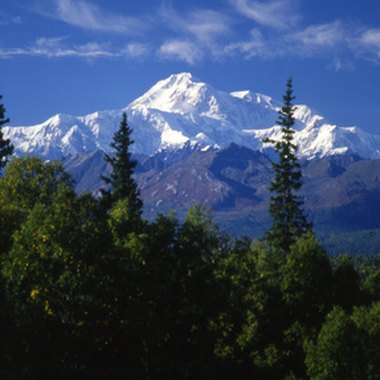 Denali -- "the Great One" -- is the Athabaskan name for soaring Mount McKinley. It is also an appropriate name for America's most accessible wilderness park. Here, truly wild animals live with little human intervention since cars are forbidden. Wilderness-lodge shuttles are the only private vehicles allowed. Denali's wilderness lodges are located deep in the park near Wonder Lake. Prices are high, but most include room, board, touring and the opportunity to experience Denali's wild heart.
Camp Denali Lodge
Rustic but classy, Camp Denali offers secluded cabins with wood stoves, propane lights, private outhouses and stunning Mt. McKinley views. This is "all-inclusive" to the max, the hefty price including transportation in, excellent meals and strenuous naturalist-led hikes -- all-day, every day. Evenings, noted specialists lecture on Alaska-related subjects. If you want more comfort or down-time, try North Face Lodge, owned by the same family; its 15 rooms have bathrooms and electricity. Both properties require minimum stays of three nights.
Kantishna Roadhouse
Kantishna Roadhouse has rustic cabins, all meals included and leisure activities including unique dog team and gold mining demonstrations. The cabins have electricity, alarm clocks and climate control and are "duplex or four-plex," good for family groups but problematic for those with noisy neighbors. The lodge is hopping with guests and busloads of tourists who come for the day. Kantishna Roadhouse appeals to those looking more for a hotel in a beautiful setting than a wilderness lodge.
Skyline Lodge
Independent travelers might prefer Skyline Lodge with its self-serve philosophy. The solar-powered log building has only three units, with decks overlooking Moose Creek. Run by the owner of Kantishna Air Taxi, the lodge offers a more casual Denali adventure with no organized activities but lots of good hiking suggestions as well as loaner mountain bikes. The much-lower fees only include breakfast, but you can join the family-style lunch and dinner for a set fee or make your own.
Denali Backcountry Lodge
The 42 cedar cabins at Denali Backcountry Lodge are spacious and have full baths, and the property has outdoor gazebos where guests can relax. The lodging price includes three hot meals a day. Families might like the optional hikes, naturalist-led programs and gold-panning demonstrations, while more active folk might wish for more challenges. A shuttle takes you to wildlife and mountain viewing areas. Guests gather over appetizers before dinner to chat with naturalist guides.
Photo Credits
mt mckinley (denali) in alaska image by Jorge Moro from Fotolia.com