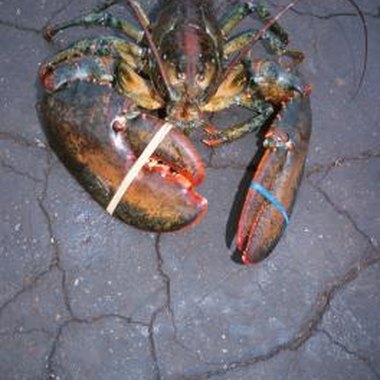 The eastern Canadian province of Prince Edward Island is home to one of the best-known lobster industries in the world. As lobster is an expensive delicacy, it is no surprise that PEI takes advantage of the animal's abundance. Many people may not think about where their food comes from; understanding PEI's lobster fisheries can give insight into the island's economy and lobster fishing as a whole.
History
Although lobster fishing in Prince Edward Island dates to the 19th century, lobster was not initially a very popular food;.in fact, it was not even considered a delicacy. Transporting and preserving lobster was difficult until the advent of canning techniques in the mid-1800s. By the early 20th century, however, lobster fishing developed to become the staple of PEI's fishing industry; in 1927, the first delivery of live lobsters was shipped from PEI to the United States. During the Great Depression, economic hardships significantly reduced the demand for lobster, crippling the industry, but when the Second World War broke out in 1939, the price and demand for lobster grew significantly. Soon, PEI supplied lobster for war victims and the lobster fishing industry experienced a revival.
Locations and Seasons
Prince Edward Island's Fall Flavors Festival website explains that fishing locations are divided into three places: North Cape to East Point, Southern Kings and Queens Country, and Victoria to North Cape. Lobster fishing is also divided into seasons; they run from April 30 to June 30 in the spring, and then in the fall from August 10 to October 10.
Sustainability
In 1967, measures were enacted to ensure sustainable lobster fishing. In addition to designating certain areas for lobster fishing and dividing the fishing year into seasons, the lobster fisheries installed countermeasures and guidelines to ensure that the lobsters have a chance to repopulate. Any lobster whose carapace (shell) is below a certain minimum size cannot be caught; to ensure this, lobster traps are designed to allow smaller lobsters to escape. Additionally, the maximum number of traps lobster fishermen can set is restricted.
Economic Importance
According to PEI's Fall Flavors Festival Website, lobster fishing "is the province's oldest organized industry," and it is also its third-most prominent source of revenue. As of 2010, the lobster fishing industry has an estimated value of $170 million, employing approximately 4500 fishermen. The level of output is significant, including "two-thirds to three-quarters of the annual PEI fishing income with a catch of approximately 20 million pounds each year."
Photo Credits
Hemera Technologies/Photos.com/Getty Images