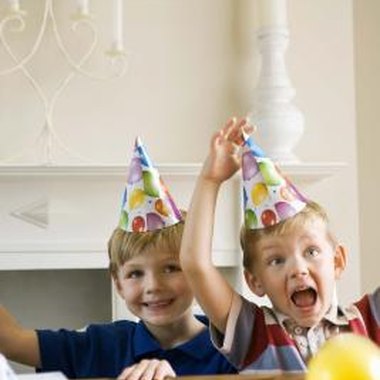 Little Tikes was founded in 1970 and has been producing entertaining and educational toys for children ever since. These high-quality toy options range from newborn toys to older children's toys and the company takes pride in their durability and safety features, allowing parents to feel at ease with purchasing its manufactured items. Transform the toys or replicate them in a centerpiece for your child's next birthday celebration to adhere to a child-like theme.
Help Yourself
Fill the back of a Little Tikes dump truck with a mixture of crushed chocolate cookies and chocolate pudding. Insert a few gummy worms into the sweet mixture to add a pop of color to the edible dirt. Allow guests to scoop some "dirt" into their bowls to enjoy with ice cream. Another option is to insert a piece of floral foam into the back of the truck and glue brown twigs to it to appear like logs. Press wrapped candy pieces into wooden skewers and press the skewer end into the foam. Add lollipops to the candy bouquet centerpiece.
Edible Display
Mix a batch of dough to make a gingerbread house but instead of cutting it into a home shape, recreate a Little Tikes playhouse. Cut circular crawl holes into the pieces and square windows for playhouses that have a window. Pipe icing to seam the parts together and spread icing over it in the typical colors of the playhouse. Decorate the house with candy embellishments such as fruit leather for window shades and candy circles for roof shingle indents.
Outdoor Fun
Little Tikes offers a number of outdoor play toys for children, so allow those playthings to inspire a centerpiece for the party. Press the end of a Little Tikes butterfly net into a grass-covered piece of floral foam. Color a clean coffee filter with drops of colored water, allowing the colors to run together. Allow the filter to dry and squish the center to form butterfly wings. Wrap a pipe cleaner around the center to secure it and press the excess pipe cleaner into the foam as well.
Blocks
Press the ends of the Little Tikes Waffle Blocks together to form cubes. Stack a pyramid of waffle block cubes in the center of the party table. Cut construction paper letters that spell the birthday child's name and temporarily tape them in order on the blocks. Another idea for the waffle blocks is to construct each cube without a top, creating bucket-type decor. Insert bags or containers of snacks inside for a centerpiece that doubles as a buffet service.
Photo Credits
Jupiterimages/BananaStock/Getty Images