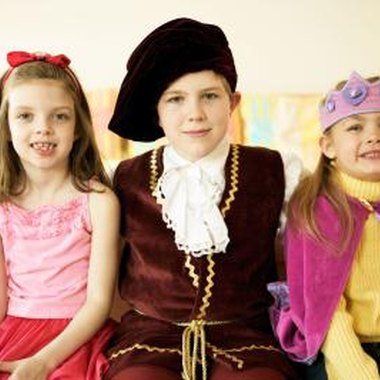 A little prince party theme is ideal for young royalty in any family. Introduce the theme to your guests with the invitations. Purchase Little Prince invitations or make them yourself using blue paper decorated with gold stickers, jewels or ribbon. Place balloons on your front door or a fence in your front yard to announce the party to everyone. Continue the theme with food, decorations, games and loot bags.
Decorations
Decorate with pictures or posters of castles, dragons and knight's shields. Use streamers and balloons in royal colors such as blue, purple and gold. Purchase Little Prince themed decorations as well. A "Happy Birthday" banner can be hung across a doorway or on a wall, and matching plates and napkins help tie the decorations together.
Food
Serve "dragon dogs" (hot dogs) to the young guests. Cut the hot dogs in half lengthwise because when whole, they are a choking hazard. Cut peanut butter and jelly sandwiches into crown shapes, and have cookies cut into royal shapes as well, such as dragons, castles and crowns. Rent cake pans in the shape of a crown or castle for a royal cake for the little prince. Serve "royal champagne" (fruit juice and sparkling water) as well as "dragon's breath" (any green drink) for the beverages.
Games
Play pin the tail on the dragon, and have a variety of small cardboard boxes available so the children can build a play castle. Hide treasure around the yard or house, such as plastic gold coins and jewels. Tell the children the king has lost his treasure and they must find it. If you the party is for a young boy and guests, have a small prize available for everyone rather than one prize for the winner. For a quieter activity, let the children decorate paper crowns to take home.
Loot Bags
Purchase blue loot bags for each child and let them decorate the bags with dragon stickers. Fill them up with more stickers, dragon figurines, small crowns and some chocolate coins. If you can find other small toys, include horses, knights, kings, queens, princesses and princes to complete the theme. For young children, include a small treasure chest filled with oat O-shaped cereal so there is a snack they can enjoy as well.
Photo Credits
Jupiterimages/Photos.com/Getty Images