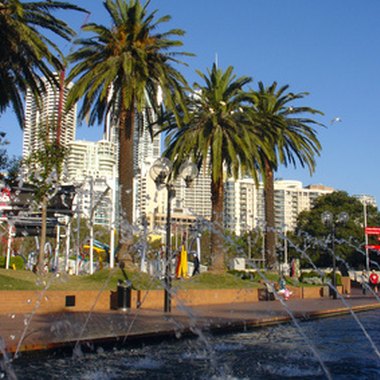 Sydney attracts vacationers from North America, Europe and Asia with its dynamic tourism trade. Public beaches like Bondi Beach are destinations for travelers in need of sun and breezes off the Tasman Sea, and tourists can see plants and animals native to Australia at the Royal National Park. This cosmopolitan city also draws visitors for international cricket and rugby matches. Sydney's lodging industry has diversified to handle the needs of guest from throughout the world.
Waterfront Hotels
Hotels along Sydney's extensive waterfront provide easy access to beaches and tourist attractions. BLUE Sydney houses guest rooms and lofts with views of the city or Woolloomooloo Bay, and visitors can take advantage of the city's mild weather at the outdoor patio and picnic area. Guests at the Sebel Pier One Sydney need only look out the front entrance to see the Sydney Harbour Bridge. Each room creates a luxurious atmosphere with cherry furniture, steel accents and marble bathroom flooring. The Front Restaurant at this waterfront property serves regional seafood in indoor and outdoor seating areas.
Boutique Hotels
Tourists looking for intriguing accommodations opt for boutique hotels throughout Sydney. The front desk at the Pensione Hotel Sydney works with guests to arrange tours of the Theatre District, and this boutique hotel also features a lounge with library and kitchen for travelers interested in a relaxing evening. Travelers staying at the Castlereagh Boutique Hotel are a short walk from attractions in downtown Sydney. Accommodations at the Castlereagh Boutique Hotel include golden sheets and replicated furniture from the Victorian era. Wine aficionados can sample regional vintages at monthly wine tastings and order their favorites at Cello's in the lobby.
All-Suite Hotels
Families and business travelers passing through Sydney are able to spread out at all-suite hotels. The Quay West Suites Sydney outfits each suite with high-end amenities like a laundry room and granite shower. Guests look out on Sydney Harbour before diving into the heated swimming pool on the hotel's 24th floor. The Fraser Suites Sydney accommodates travelers in suites with full-size kitchens and sitting rooms. This downtown hotel fulfills guest needs ranging from room service to child-care arrangements through the front desk. Travelers need only walk about a block from the hotel entrance for shopping at Regent Place.
Bed and Breakfasts
Bed and breakfasts in the heart of Sydney provide comfortable accommodations to international travelers. The Woolbrokers Hotel near Darling Harbour maintains exterior features dating to 1886. Guests consult the innkeeper for taxi services, tour arrangements and breakfast orders that account for food allergies. The Bed & Breakfast Sydney Harbour in the Rockes neighborhood recreates the comforts of home with a large sofa, opening windows and hardwood floors in each room. Travelers can sit down at the hotel's outdoor patio for sausage and egg plates for breakfast.