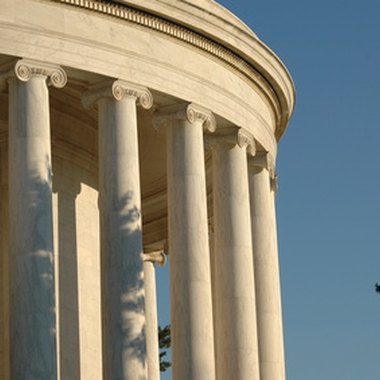 Embassies are scattered across Washington with a large concentration along Massachusetts Avenue in the city's northwest quadrant, famously known as Embassy Row. Hotels near embassies are generally upscale or luxury properties with high-end amenities, on-site dining and valet services. Most are convenient to Metro stops or within walking distance of the city's other attractions.
Embassy Row West of Dupont Circle
The Turkish, Greek and British embassies are among the dozens of embassies in the Massachusetts Avenue area. Omni Shoreham, overlooking Rock Creek Park, is a luxury hotel offering both standard rooms and suites. Some of the guest rooms have "Get Fit" features like motorized treadmills and goody bags. The AAA three-diamond Wardman Park Hotel has an outdoor swimming pool and sundeck. One of the hotel's packages is called OUT in DC, and a percentage of the room rate is donated to GLAAD, the Gay and Lesbian Alliance Against Defamation.
East of Dupont Circle
The Chilean, Philippine and Peruvian embassies are among others located along Massachusetts Avenue east of Dupont Circle. Topaz is a boutique hotel with a vibe inspired by Eastern cultures. In-room spa services include massage and body treatments. The hotel's Strike a Pose free yoga program includes a yoga mat, televised yoga instruction and new age music. Hotel Rouge, named for the color that dominates its decor, hosts a nightly wine reception. Rooms have PlayStations and Wii, and the room's mini-bar is stocked with snacks, drinks and Red Wax Lips candy.
National Archives Area
The Canadian Embassy and the Argentine Naval Attache offices are near the National Archives on Pennsylvania between the Capitol and the White House. Hotel Monaco, a AAA four-diamond hotel, is located in a National Registered Landmark building. Large guest rooms feature the original arched and vaulted ceilings. Marriott's Newseum Residences are studio, one- and two-bedroom apartments available for month-long stays. Fully furnished rentals include housekeeping, Wi-Fi and access to the fitness center's equipment and personal trainers.
Foggy Bottom
Foggy Bottom, site of the State Department and the National Academy of Sciences, is home to the Saudi Embassy and the Embassy of Bosnia and Herzegovina. The Hotel Lombardy, a member of Historic Hotels of America, features classic 1920s decor. Park view rooms and suites overlook James Monroe Park. AKA White House offers luxury one- and two-bedroom suites and penthouses with private, wraparound rooftop terraces. Gourmet kitchens feature stainless steel appliances and each unit is equipped with a washer and dryer. A four-night stay is required for most dates.
Photo Credits
Thomas Jefferson Memorial image by dwight9592 from Fotolia.com