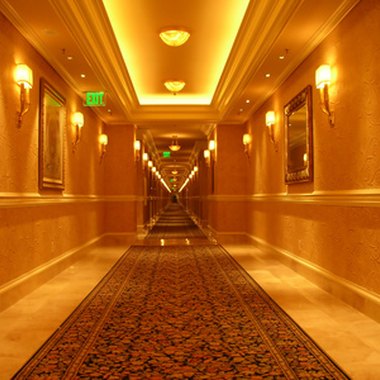 If you plan a trip to "Sin City," you will not lack for accommodation options. The hundreds of hotels in Las Vegas offer more rooms than any other American city. Luxurious casino resorts and chain hotels line Las Vegas Boulevard, while cheaper lodging options abound downtown, providing options for every traveler's budget.
Types
Two main types of hotels abound in Las Vegas -- casino resorts and chain hotels. The former includes some of the most famous casinos in the world, such as Bellagio, Caesars Palace and MGM Grand, that each offer thousands of hotel rooms spread across multiple towers on the property. These resorts can be sprawling, but they offer plenty of amenities and lush accommodations, as well as casino gambling. Chain hotels such as Holiday Inn and Best Western provide the same rooms you would find at other properties in the chain. These hotels include more basic amenities and do not have casinos.
Locations
The four-mile-long section of Las Vegas Boulevard known as the Strip dominates the city, as nearly all major resorts and attractions are located here. In addition to the casino resorts, the area is home to top properties Aria, The Venetian, Wynn, Mirage and Treasure Island. Travel farther north on this street and you will reach Fremont Street, the hub of the downtown area of Las Vegas. Top choices in this location include Golden Nugget and Main Street Station.
Considerations
Distances between casinos on the Strip can be deceptive due to the immense size of the properties. If you plan to do much traveling between casinos, you may want to rent a car. You can park for free at any casino's parking deck. Book your room early, especially if you plan to travel during times when visitation is high, such as New Year's Eve and the weekend of the Super Bowl. If you find a better deal later, you can usually call the hotel before your stay and get the lower rate.
Fun Facts
The intersection of Las Vegas Boulevard and Tropicana Avenue, which is home to New York New York, Excalibur, Tropicana and MGM Grand, offers more hotel rooms than the entire city of San Francisco, according to Frommer's. In fact, Las Vegas features nine of the world's 10 largest hotels.
References
"Fodor's Las Vegas 2010"; Andrew Collins et al.; 2009
"Frommer's Las Vegas 2009"; Mary Herczog; 2009