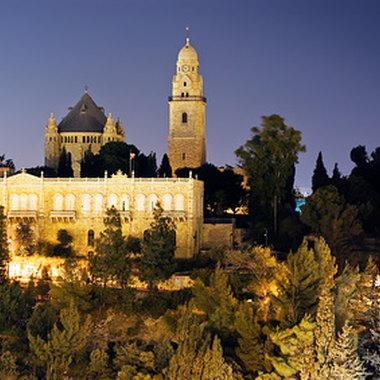 Jerusalem has a large collection of upscale hotels offering views of the Old City and top drawer accommodations. The King David Hotel even played a part in the history of Israel; as the site of an Israeli-born terror plot against British troops in the 1940s, an entire wing was blown up and later rebuilt. From eavesdropping on foreign journalists at the American Colony to admiring contemporary Israeli art at the new Harmony boutique hotel, there are a range of noteworthy Jerusalem hotels offering unique takes on this ancient city.
King David Hotel
Built in the 1930s, the King David Hotel has long been a home for foreign dignitaries visiting Jerusalem and is one of only two hotels in Jerusalem listed by the Leading Hotels in the World, a luxury booking service. The building, designed by a Swiss architect with oversight by a Jerusalem architect, features Judaic art and distinctly European lines and and symmetry. Located on King David Street, the hotel is within walking distance of most of the major historical sites of the Old City, and also near downtown Jerusalem. Many of the rooms offer views of the Old City. The hotel also has a large, complimentary breakfast buffet, a restaurant, a fitness and massage center, a sauna and a synagogue.
American Colony Hotel
Marc Chagall, Richard Gere and Lauren Bacall have tayed at this well-known hotel, voted "Best Hotel in the Middle East" by Conde Nast Traveler two years in a row. Rooms offer complimentary wireless Internet, interactive flat-screen TVs and large work areas outfitted with antique furniture. Inner courtyards have lush plant life, Armenian ceramics and painted antique wooden ceilings. The hotel features six bars and restaurants, serving everything from afternoon tea to Arabic food, and is popular with visiting journalists and Arab and Israeli businessmen.
Mount Zion Hotel
Dramatically situated on a cliff overlooking David's Tower, Mount Zion and the Hinnom valley, the Mount Zion Hotel was built with early-20th century Jerusalem stone in a unique architectural style. Rooms feature (at minimum) fresh flowers, cable TVs and garden views. Some of the larger suites have kitchenettes with minibars and fridges. The hotel also rents a two-story villa with three bedrooms, two bathrooms and panoramic views of the Old City.
Harmony
One of only two hotels in Jerusalem voted as "Fodor's Choice," Harmony is a boutique hotel with free happy hours, complimentary Internet and quick access to the Old City. Open since 2008, it's one of only a few moderately priced hotels in Jerusalem to offer a wide range of amenities, with a rooftop terrace, a pool room, a fireside lounge and a game room. The hotel is decorated with photographs and video art by local artists and features sleek, contemporary furniture. Street noise can be a problem, but in the summer, the air conditioning usually drowns it out.
Photo Credits
Jerusalem at night image by Yanir Taflev from Fotolia.com