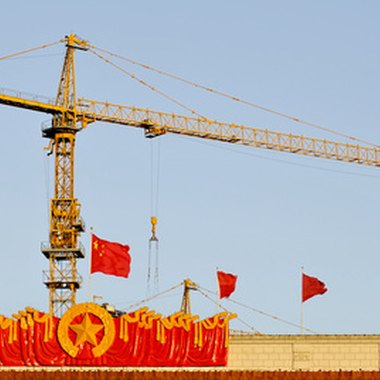 As the center of one of the world's foremost economies and one of its most historic civilizations, Beijing draws in throngs of curious tourists and ambitious business travelers and has a hotel scene to match that demand. However, hotel ratings in China are sometimes misleading, driving many to seek the comfort and reliability of lodgings with a international hotel chain.
Considerations
Many travelers rely on brand-name, chain hotels to provide them with reliable standards and amenities while they are traveling abroad. In China, all such chain hotels operate under Sino-foreign joint ventures. In most cases, this means a Chinese company owns the building, which is then leased to a foreign hotel chain. The result is that chain hotels in China are usually never quite up to snuff when compared to their counterparts in North America. According to Frommer's, guests will "generally find 90% of what [they would] expect from the same brand at home."
Beijing Marriott West
Described by Frommer's as one of the most opulent hotels in the country, the Beijing Marriott West was only the second Marriott hotel to open in China. The hotel's guestrooms and public spaces are decorated in the style of a classical European boutique hotel, but it's still a Marriott and offers guests plenty of space and 155 rooms and suites. Although the Xicheng area location in the northwestern part of inner Beijing is well suited to business travelers, tourists will find it somewhat remote from the city's major sights.
Holiday Inn Central Plaza
Although still expensive, this outpost of the Holiday Inn is among the less expensive chain hotel options in Beijing. Unlike the typical Holiday Inn in China, where the furnishings are often bland, this hotel has a markedly stylish and Euro-modern decor, so much so that Frommer's labeled it "Zenlike." The location of this Holiday Inn is off-beat also, as it's in a residential district in the Xuanwu district of southern Beijing. While the hotel is near only a few tourist sights, such as the Niu Street Mosque and a few museums, it is a good place for visitors who wish to mingle with the citizens of Beijing and is convenient to two major train stations.
Park Hyatt Beijing
Set in a 63-story skyscraper in the midst of Beijing's central business district of Chaoyang, this Hyatt is among the city's Fodor's Choice hotels. The Park Hyatt has an ultra-modern and minimalist decor, but it's packed with amenities and features for pampering guests, such as the spa-like bathrooms with giant rain shower heads, deep bathtubs and heated floors. The rooftop bar, perched high in the sky and designed to resemble a Chinese lantern, commands what Fodor's called "spectacular views of the city."
Photo Credits
Beijing Tiananmen Square image by Sergei Trofimov from Fotolia.com