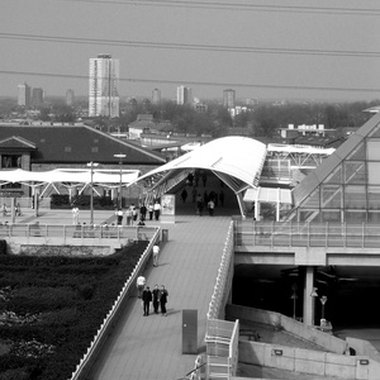 Custom House is a station on the Docklands Light Railway (DLR), the modern extension of London's public transportation system that reaches across Greenwich, Canary Wharf and the Docklands. But Custom House isn't simply a station. It is also the gateway to ExCeL, London's post-millennial, East London exhibition center. This busy venue has five on-site hotels and others close by.
Novotel London ExCeL
Novotel ExCeL is one of two hotels on the ExCeL site within less than 200 yards of Custom House. A four-star hotel, Novotel is one of the premium brands of the French-owned Accor group. The hotel has 257 rooms equipped with either a double bed and two-seat sofa bed or twin beds. The hotel has a number of fully equipped meeting rooms and its guestrooms are well arranged for business travelers. An unusual feature is the pivoting desk in all guestrooms that can be arranged for working or dining.
Ibis London Docklands - ExCeL
Ibis, the economy brand of the Accor group, shares a building with its sister hotel, Novotel. This 278-room, two-star hotel overlooks the Royal Victoria Dock and is only 165 yards from Custom House and the exhibition center. Rooms are small and basic but immaculate and modern. Satellite television and wireless Internet access are standard in all rooms. The hotel has a café and on-site, secure pay parking for 70 cars.
Custom House Hotel
The Custom House Hotel is a large, moderately priced hotel across the road from Custom House station and just outside the ExCeL estate. This hotel's 282 rooms are relatively basic and its standard rates seem high for the level of comfort offered; with its tile floors and formica tables, the breakfast room resembles a school cafeteria. The hotel's website suggests it has a "bridge link" direct to ExCeL, but actually this is simply the public walkway over the tracks at Custom House station.
Crowne Plaza
The Crowne Plaza is a four-star hotel on the ExCeL estate near Royal Victoria DLR station. About a third of a mile west of Custom House, this hotel is also convenient for Canary Wharf and the O2 Arena. Rooms are functional and modern with few frills but good communications and entertainment technology. The hotel is designed for conference organizers and delegates in mind. There are nine meeting rooms equipped with state-of-the-art technology including whiteboards, working walls, ISDN Lines and projection equipment. A small number of smoking rooms are available at this hotel.
Premier Inn
The budget-priced Premier Inn is one of two hotels on the ExCeL estate near Prince Regent DLR station, a third of a mile east of Custom House. As part of Britain's biggest hotel chain, with almost 600 hotels to date, Premier Inns present a consistent offering of clean modern rooms with comfortable beds, on-site cafes and good in-room Internet access. This hotel also has family rooms and meeting rooms.
Ramada Hotel and Suites
The Ramada Hotel and Suites, also east of Custom House near Prince Regent DLR, is a four-star option for families or longer-staying guests. In addition to 153 guestrooms, the hotel has 71 kitchenette suites. Guestroom are small, decorated in earth tones, with the simple modern furnishings that seem to be standard in hotels catering for business travelers. Suites, which are decorated in cool blues and browns, have bedrooms and separate living and dining areas. The galley kitchenettes have kettles, microwaves and refrigerators. Both rooms and suites are available as wheelchair- and disability-accessible accommodations.
Resources
Novotel; ExCeL London; Western Gateway; Royal Victoria Dock; London E16 1AL; 011-44-871-663-9217
Ibis; ExCeL London; 9 Western Gateway; Royal Victoria Dock; London E16 1AB; 011-44-20-7055-2300
Crowne Plaza; Royal Victoria Dock; Western Gateway ; London E16 1AL; 011-44-20-7055-2000
Premier Inn Docklands-Excel; Excel East;Royal Victoria Dock;London E16 1SL; 011-44-871-527-8650