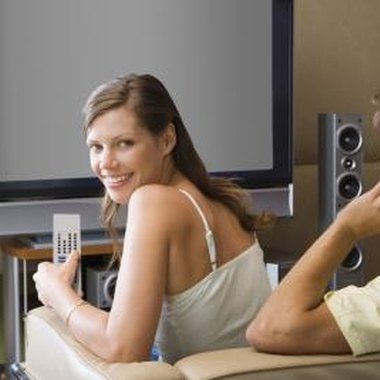 Whether you've just moved to the City of Brotherly Love or want to change your current cable company, Philadelphia has plenty of cable companies willing to provide their services, although some may have limited service areas. Be sure to check the availability of a certain cable company or service in your particular area. Prospective customers should refer to company websites for more details.
Comcast/Xfinity
Comcast is a Philadelphia-based cable company that offers phone, cable and Internet services to the Greater Philadelphia region. Xfinity is the brand-name of Comcast's fiber optic services, so you may see services referred to as either Comcast or Xfinity. Customers can order basic and long distance phone service, cable television (in 3D, high definition and standard definition), high-speed Internet, pay-per-view services and programs on-demand. Apple supports an app that allows Comcast/Xfinity subscribers to view on-demand programs on a mobile device (such as an iPad or iPhone). The same app also allows users to program their DVR (digital video recorder) through their mobile device. Additionally, Comcast/Xfinity offers mobile Internet or broadband services through a mobile broadband device or a mobile hotspot for Internet access on-the-go.
DirectTV
DirectTV is a national satellite TV provider that offers only television services. DirectTV may, however, be provided through a cable television provider in Philadelphia and bundled with their Internet services. DirectTV offers television, movies and sports programing in both HD and standard definition. You can watch television through your computer or set your DVR to record movies, games and TV shows via your cell phone.
Verizon/Fios
Verizon is a national company that provides both fiber-optic and cable TV services throughout the Philadelphia region. Fios is the band name of Verizon's fiber-optic services, and it may not be available in all Philadelphia areas. Verizon offers phone (local and long distance), cable television (3D, HD and standard definition), and high-speed Internet service. If Fios is not available, customers can order DirectTV in conjunction with Verizon's phone and Internet services. Verizon offers multi-room DVRs you can program your recordings via the Internet. Verizon also offers Flex-view, where customers can download and view movies on any device. With TVOnline, customers can stream cable television or premium channels on any device.
RCN (Delaware County)
RCN provides phone, cable television and Internet services to limited portions of Greater Philadelphia. RCN offers HD and SD programming, on-demand and pay-per view services, as well as premium movie channels. You can rent a DVR from RCN to record your favorite shows for later viewing. You can also choose to bundle (or group) services, or you can choose to only order one service, like cable TV, through RCN. RCN offers varying speeds of Internet access, depending upon the customer's needs.
References
Photo Credits
Polka Dot Images/Polka Dot/Getty Images