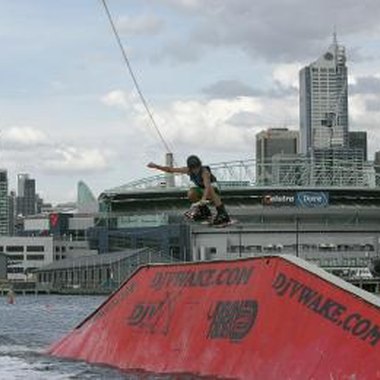 Wakeboarding is a hybrid sport that blends the tricks of snowboarding with the riding terrain of waterskiing. The wakeboard features two flexible bindings that allow your feet to stay fastened to the top of the deck. The lipslide is an intermediate wakeboarding trick that you can perform on a small box or flat rail. Discover Boating recommends practicing the lipslide while riding at 12 to 15 mph. Always wear a polycarbonate wakeboard helmet when learning new trick variations.
Step

1
Bend your knees to a 45-degree angle to balance your wakeboarding stance. Approach the box or rail with the toe edge of your wakeboard parallel to the obstacle. Transfer the majority of your body weight onto the rear binding of the wakeboard.
Step

2
Extend your legs to jump vertically as you near the front end of the box or rail. Lift your knees to prevent the edge of the wakeboard from making contact with the obstacle. Pull the ski rope handle toward you while rotating your shoulders.
Step

3
Turn the wakeboard 90 degrees with your chest facing toward the end of the obstacle. Bend your knees as the underside of the wakeboard lands onto the box or rail. Keep the wakeboard perpendicular to the obstacle as you begin to slide forward.
Step

4
Lean back slightly to avoid falling forward onto the obstacle. Pull on the ski rope handle if you begin to fall backward. Jump away from the box or rail as you slide toward the end.
Step

5
Rotate the wakeboard 90 degrees with your lead foot in the forward position. Bend your knees as the underside of the wakeboard descends onto the water. Practice the lipslide technique until you can land the trick consistently.
Resources
Photo Credits
Quinn Rooney/Getty Images Sport/Getty Images