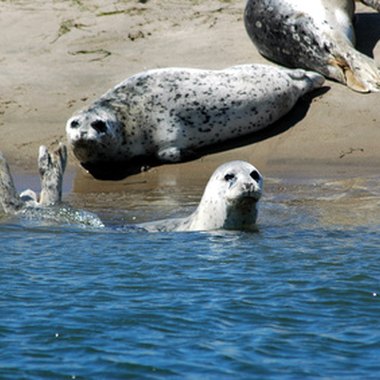 Famous for the glass floats that wash-up on its shores, Lincoln City is the perfect central Oregon coastal town for those looking for a relaxing retreat. What Lincoln City lacks in aquarium and cheap gift shops, it makes up for with art galleries, hand-blown glass shops and demonstrations, antique shops, forests and beaches where harbor seals play. Most of Lincoln City's hotels are within walking distance of the beach and near a hot bowl of homemade clam chowder.
The Ashley Inn & Suites
Green Business Certified, The Ashley Inn & Suites at the north end of Lincoln City is a lodge-inspired accommodation whose look is completed by the stone fireplace mantle and tree trunk coffee table in the lobby. Accommodations at this hotel resemble a bed and breakfast and range from standard guest rooms to four-room kitchen suites. The spa rooms and suites feature en-suite two-person Jacuzzi tubs with water jets. All the rooms at The Ashley Inn & Suites come with a DVD players, microwave and refrigerator. The kitchen suite, however, has a fully equipped kitchen that is as large as kitchen found in a small apartment. Amenities at this hotel include a business center, pet-friendly rooms, an indoor salt-water pool, guest laundry facility and a hot homemade breakfast served every morning.
The Coho Oceanfront Lodge
Located on Lincoln City's beachfront, The Coho Oceanfront Lodge is a boutique hotel that features a retro look using a beach-inspired color palette. Accommodations at this hotel include over-sized suites and studio rooms that all have panoramic views of the Pacific Ocean, bamboo bathroom linens and eco-friendly bath products. Some of the notable suites at The Coho include the Fireplace Suites, the Kids' Suite with bunk beds and a videogame console and the Flora Studios, located next to Flora Park, which comes with a fireplace or jetted tub and a Juliette balcony. Amenities at The Coho include free shuttle services to nearby casinos, in-room massage services, homemade cookies, Wednesday wine socials, board games and DVD rentals.
Inn at Wecoma
A modern, upscale hotel with light, hardwood floors and dark leather furniture, the Inn at Wecoma is six blocks away from Lincoln City's shoreline. This hotel aims to keep history alive through videos and displays of Lincoln City's past. Adorned with modern décor and shades of tan, black and white, the Inn at Wecoma lets the ocean view be the main attraction in the rooms. The rooms, studios and suites feature a hibiscus theme, earth-friendly bath amenities, large bathtubs, granite countertops, microwave and a refrigerator. Some of the rooms have television sets in them with an HDMI hookup so guests can hook their computers up to the TV and watch streaming videos on a larger screen. The Inn at Wecoma allows pets for an additional fee and offers shuttle services to area casinos, sundeck, complimentary deluxe continental breakfast and board games.
Ester Lee Motel
The first and only Oregon motel to have 100 percent of its staff "Q" certified by the Oregon Tourism Commission, the Ester Lee Motel is a pet-friendly, beachfront motel along Highway 101. The accommodations at the Ester Lee come in the form of motel rooms and cottages that overlook the ocean, and places guests just a few steps from the sand and starfish-filled tide pools. The motel offers basic, no-frills rooms with gas or wood-burning fireplaces, complimentary firewood, a fully stocked kitchen and views of the ocean. Select rooms also include an in-suite Jacuzzi tub. The Ester Lee also provides a DVD video library as well as a paved trail down to the beach.