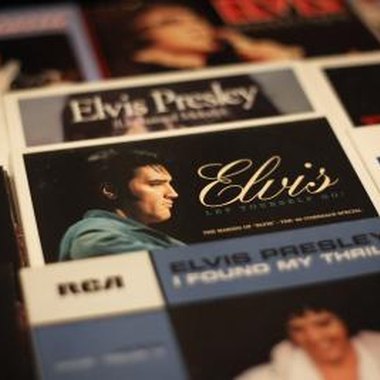 Despite the idyllic backdrop of the 1950s, the world was primed for a kid from Mississippi with a rich sound that defied boundaries and challenged the status quo. Even decades beyond his untimely death in 1977, Elvis Presley remains one of the top-selling Billboard artists in history. He still reigns as the King of Rock and Roll, leaving a legacy of change to the face and sound of music for all the artists who followed him.
The Changing Sound of Music
In the early 1950s pop fare was typically left in the hands of artists such as Tony Bennett, Doris Day and Perry Como. By the mid-1950s, however, a more culturally diverse sound began to infiltrate popular music, with a decidedly different face. With his deep gospel roots and exposure to R&B;, Elvis managed to capture the "black" sound that was growing in popularity. This fortuitously caught the attention of record producer Sam Phillips. By 1956 Elvis brought this intoxicating blend to the masses with Billboard hits such as "Heartbreak Hotel" and "Love Me Tender," effectively marrying the rhythm and blues sound to rock and roll music for a white audience.
Teen Idol for a New Generation
What Elvis also brought to the table was a primal sex appeal, which reached a whole generation of young female fans in search for a different kind of teen idol. His moves were raw and his sound was sensual. This was so controversial it struck the era like a lightning bolt. His trademark hip swivel would land him in hot water with the more conservative sensibilities of the time, but his popularity continued to skyrocket, especially among the teens parents wanted to shield from his unapologetic sexual magnetism. This challenged the innocence of the age.
Rebel With a Cause
Elvis broke the rules, which put him on the map for many religious leaders who felt his influence would lead to a moral corruption for his young fans. Much like his sound, his character had a distinct duality. On one hand Elvis was a good Southern boy who loved his Mama, sang praises to his Lord and even served his country. But controversy would find and follow Elvis, even to the day he died, which made him even more accessible to the fans who loved him.
The King Lives
A running joke in American culture is that Elvis did not really die on August 16, 1977. You'll hear "The King Lives!" from those faithful few who want so badly for it to be true. Despite its conspiratorial overtones, there is a certain truth to the sentiment. In many significant ways Elvis has endured far past his short time on Earth, thus rendering his legacy that of immortality. In less than 20 years he released 77 albums, and since his death collections have been repackaged to bring his total sales to over one billion, more than any other artist before or since. His image is still alive and well in Hollywood, Memphis and Vegas, and legions of fans make annual pilgrimages to his iconic home, Graceland, as a sign of dedication.
Photo Credits
Peter Macdiarmid/Getty Images News/Getty Images