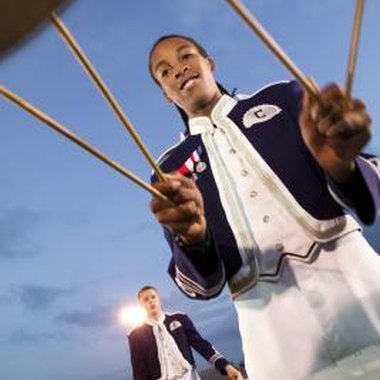 Leading a drum line requires some of the same skills needed for leadership in all areas of line. The drum line is a group of percussionists who play drums as part of a marching band. Very popular in the southern region of the United States, some consider the drum line the highlight of the band as a whole. Precision, patience, communication and overall leadership skills are essential for an effective drum line captain.
Step

1
Lead by example and learn the music. Leading a group of individuals, in this case a drumline, requires demonstration. Discussing how a particular rhythm sounds is not nearly as effective as putting the drum sticks to use and playing the beat. Once the drumline members understand their captain has mastered the drums and reading music, he becomes more authoritative on the subject matter and they are more likely to instinctively follow.
Step

2
Demonstrate self-confidence and display courage. When a situation requires someone to stand up and object to an unpleasant situation -- whether that is the band director or a member of the drumline -- take the lead and address the situation. Taking a stand requires confidence and conviction, traits often associated with a good leader. If a member of the drumline is not pulling her weight in rehearsals, or the drumline collectively feels a band director's policy is unfair, speak up. You may not win the battle, but showing your drumline you care enough about their collective success shows you deserve their respect.
Step

3
Focus on positive behaviors and actions. When your drumline experiences a success -- on the field or off -- take time to congratulate the group and acknowledge the progress made. The drumline may not have received top honors at the most recent competition, but there is almost always something to celebrate.
Step

4
Show support. When a member of the drumline struggles with a particular combination of an up-tempo piece, rather than focusing on the trouble, spend extra time helping him work through it. Showing support signifies a personal interest in the individuals you lead, rather than a weakness as a leader.
Step

5
Seek input. Effective leaders know they cannot function alone and rely on help from others. Take time each week to meet with all drumline members and seek their input on what needs improvement. That may be a piece of music that is not up to par, or even something about your leadership style. Be prepared to hear negative feedback at times and accept it willingly.
Step

6
Include everyone. Every member of your drumline has something to offer the entire group if given the chance to participate. Even if in the end the idea or suggestion is rejected, allowing members the chance to contribute builds a stronger team.
Tips & Warnings
Practice all of your techniques. Including marching, marching formations, sheet music and any other miscellaneous duties required.

Be up front with all members of the drumline. Knowing what to expect allows members to focus on their performance, spending less time wondering.

Do not be a dictator. Nothing causes unrest in groups as quickly as a closed-mind approach to leading.
Photo Credits
Thinkstock Images/Comstock/Getty Images