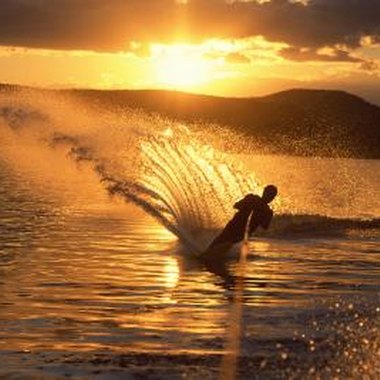 Waverunners, called personal watercraft under Florida law, are regulated generally under Chapter 327 of the Florida laws, along with water skiing and para sailing. The Florida regulations are intended to ensure the safety of both the participants and the public, and the rights of fellow boaters.
Waverunner Equipment Requirements
Florida Boating Regulations require that any individual operating a waverunner in Florida public waters must wear an approved life vest, called a personal flotation device under Florida law. The life vest cannot be inflatable; it must be a solid material design. If the waverunner is equipped with an ignition cutoff, the cutoff cord must be attached to the waverunner operator's wrist. This ensures that if the rider falls off the waverunner, the engine will turn off.
Waverunner Operation Requirements
Pursuant to Section 327.37 of the Florida Laws, a waverunner operator must be at least 14 years of age. Anyone who rents a waverunner must be at least 18 years of age. The operator must have completed a Florida-approved boating education course and keep in his possession a certificate of completion that is to be presented to law enforcement officers upon request. Waverunners cannot be operated 30 minutes before sunset or 30 minutes before sunrise, as low-light conditions make waverunners difficult for boaters to see. Waverunners must be operated "in a reasonable and prudent manner." This means the waverunner should not follow other boats closely, nor jump the wake of other boats. Finally, waverunners cannot be operated by someone under the influence of alcohol or drugs.
Water Skiing Equipment Requirements
If a person is towing a parasailer or water skier behind a boat, the boat must have either an observer or a wide angle rear view mirror. If a person is para-sailing behind a waverunner, there must be a dedicated observer on the waverunner checking on the parasailer. In addition, the water skier must wear an approved life vest pursuant to Section 327.37 of the Florida Laws.
Water Skiing Operation Requirements
Pursuant to Section 327.37 of the Florida Laws, water skiing is not allowed neither 30 minutes after sunset, nor 30 minutes before sunrise. A parasailer or water skier may not approach within 100 feet of the marked channel of the Florida intercoastal waterway.
Photo Credits
Comstock Images/Comstock/Getty Images