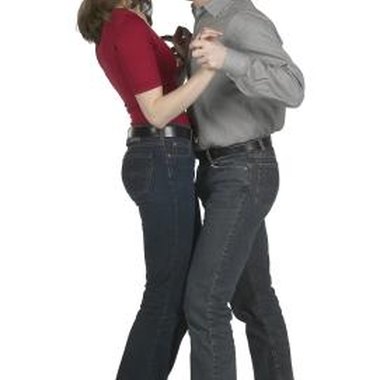 Latin nightclubs in Maryland offer Latin dancing and music all in one place where people of Latin culture can celebrate their heritage. Those of other cultures who love the music can enjoy it too. Many clubs also offer dance lessons -- complete with instructors -- and some use their clubs to host a "Latin night" during the week to attract new customers to their establishment. The Baltimore clubs are just a short ride from Washington, D.C.
The Latin Palace
The Latin Palace, 509 S. Broadway Street, Baltimore, Maryland (www.latinpalace.com), features some of the hottest nightclub action and music in Maryland. The club features lessons in salsa dancing (in addition to other styles of Latin dance) and also includes a pay-one-price feature where people can get into the club and receive food and drink, which includes dessert. Latin Palace also accommodates small parties and medium sized groups for dancing and for dance lessons. The nightclub does not hold classes daily, so interested parties should call ahead to make a reservation.
Havana Club
The Havana Club, 600 Water Street, Baltimore (www.havanaclub-baltimore.com) calls itself Baltimore's "hottest upscale nightclub" located near its world famous Inner Harbor. On the second and fourth Thursdays of the month, the Baltimore Salsa Dance Company sponsors "Salsa Night" with registration beginning at 8 p.m. and lessons beginning at 8:30 p.m. The cost is $10 per person and an open dance follows the lessons. The Havana Club also accommodates private parties, corporate functions and group lessons. It is also well-known for its large cigar collection.
Red Maple
Red Maple (www.930redmaple.com), 930 North Charles Street, in the Mount Vernon section of Baltimore offers upscale Latin nightlife called "Salsa Fuego" every Tuesday. People who arrive early at 5:30 p.m. get the chance to sample Latin food. Salsa lessons begin at 8:30 p.m. until 9 p.m. with an instructor to show people the moves. Once lessons end, a DJ plays Latin music all night long. The club also boasts happy hour from 5 p.m. to 7 p.m. Those seeking something to eat can try it's global fusion menu. Guests can also book the Red Maple for private parties including bachelorette parties, engagement parties, fundraisers and corporate functions.
Salsa Now
Salsa Now (www.salsa-now.net) provides traveling dance lessons throughout Maryland, bringing Latin dancing and nightclub life to clubs all over the state, making Latin dancing and nightlife available in places where people cannot travel to a club. Prices and times vary, so it's best to the check the website for more information, but most dance events include lessons and then open dancing for a flat fee. They hold dances during the week, weekends and on special events and even do unique dances such as a rooftop Latin dance.
Photo Credits
PhotoObjects.net/PhotoObjects.net/Getty Images