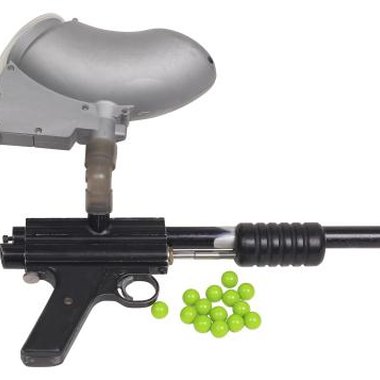 Mississippi is home to many laser tag arenas and paintball parks scattered across the state for families, group outings, corporate retreats and friends just having fun. Warm weather for much of the year means paintball can be enjoyed in the winter but the heat and humidity of the summer often means paintball action is shut down during the hottest parts of the year. Indoor laser tag facilities, however, often have expanded summer hours to take advantage of kids being out of school.
Laser Mania, Hattiesburg
In Hattiesburg, not far from the University of Southern Mississippi campus, is a facility that can cater to families, church groups, corporate outings and other organizations. The Laser Mania family laser tag arena (lasermania.com/hattiesburg) features Friday night Blast-a-thons, which provide unlimited play for $15, as of July, 2011). Groups of six or more get a discount on game prices and the entire facility can be rented out before or after hours for $225 per hour.
Space Tag, Ellisville
Space Tag (spacetag.us) is open seven days a week but Sundays are for reservation only in the summer. Groups can rent out the facility on other days, too, so it's a good idea to call before you head over there. Space Tag is a popular spot for birthday parties and for a little extra fun, you can have costumed characters Darth Vader and stormtroopers join in the laser tag fun.
Biloxi River Paintball, Saucier
At a little more than 45 acres, Biloxi River Paintball (biloxiriverpaintball.com), located in Saucier, is the largest paintball facility in southern Mississippi, as of July 2011. The wooded area actually contains three different fields to better accommodate groups of different sizes. Field fees run $15 per player if he has his own gear or $30 per player including goggles, paintball gun, hopper, air, and 200 paintballs. Players must be at least 10 years old to participate.
Rebel Paintball Company
Located near Oxford, home of the University of Mississippi Rebels, the Rebel Paintball Company (rebelpaintballco.com) features four distinct fields. The Hill is a wooded hill that one team defends from the top, another team storms from the bottom. X-Ball is a standard paintball field, though it's more geared toward intermediate and experienced players. The Road Course is littered with tires and traffic barrels to evoke the setting of the "Mad Max" movies. And Pallet Pandemonium is a course set up with symmetrically placed pallets to serve as barriers for players trying to gain an advantage on their opponents.
Photo Credits
Hemera Technologies/PhotoObjects.net/Getty Images