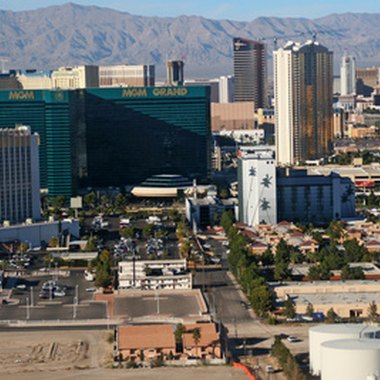 Greater Las Vegas includes the Strip with large casinos and hotels and also a host of neighborhoods where the hotels are smaller and gaming is less important to operations. Las Vegas neighborhoods, along with the area surrounding the local university, provide options for visitors who are looking for something other than a hotel located on or near the Strip.
University Area
The neighborhood surrounding the University of Nevada at Las Vegas (UNLV), on South Maryland Parkway to the east of the Las Vegas Strip, offers several hotels. The Embassy Suites Las Vegas offers guest suites at a central location near UNLV and the Thomas and Mack Event Center. The hotel features business and fitness centers, a complimentary local area transportation shuttle, outdoor pool with whirlpool, and a recreation desk to assist with reservations for area activities. The Silverton Casino and Lodge, located on at Blue Diamond Road and Interstate 15, has easy access to UNLV and shuttle service to and from the airport and shopping mall every 30 minutes. Accommodations at the hotel feature a choice of 378 deluxe rooms or suites with 800-square-foot rooms with Jacuzzi tubs and dining counters.
Green Valley
The Green Valley Ranch, located in the Green Valley adjacent to Las Vegas, offers special spa, family and couples packages. Other packages that incorporate hotel accommodations feature skiing, bed and breakfast, dinner and a film and getaway packages. Amenities at the ranch hotel include swimming pool, spa services and access to the on-site casino. The 149-room, three-floor Courtyard Las Vegas Henderson/Green Valley shuttles guests to the airport for free, offers complimentary parking, on-site fitness center, and outdoor heated pool, hotel whirlpool and sauna. Guests receve free shuttles to the airport.
Winchester Area
The Winchester area, north of Las Vegas between State Highway 95 and Interstate 15, features several neighborhood hotel options for visitors to the city. Although a part of Winchester incorporates the Las Vegas Strip, the neighborhood extends into a cluster of small neighborhoods. Studio hotel rooms at the Extended Stay America Efficiency Studios Las Vegas on Boulder Highway include full kitchens and all cooking utensils. The hotel also offers an on-site pool, fitness center, guest laundry and fitness center. Sam's Town Hotel and Gambling Hall, also on Boulder Highway, offers a choice of standard and deluxe rooms and deluxe suites. Sam's also offers 500 recreational vehicle lots with on-site laundry, full hookups and shower facilities. Both the hotel and the RV park have swimming pools.
Spring Valley
The Spring Valley, west of Interstate Highway 15 on South Decatur Boulevard, provides an additional option for neighborhood hotel accommodations. The Desert Paradise Resort Hotel, two miles south of the Strip, has suites with access to the hotel's fitness center, laundry facilities, game room, business center and gift store. Hotel guests also enjoy year-round access to the hotel's spa and outdoor heated pools, outdoor hot tub and a spa. Area restaurants include Pizza Hut, Denny's, Dad's Grilled Cheese, Robert's Taco Shop, and Felipito's Mexican Food. The Oasis Bar and Grill is adjacent to the resort.
Photo Credits
las vegas from above image by Olegs Mareida from Fotolia.com