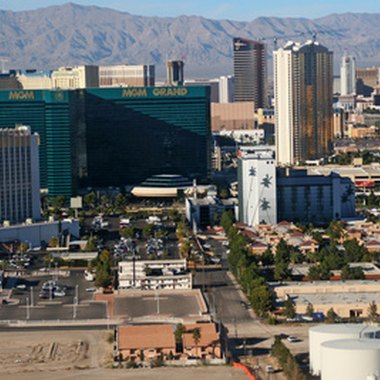 Gambling, four-star restaurants, golf resorts, live entertainment and night life that extends to the wee hours of the morning become some of the highlights awaiting travelers visiting Las Vegas. The Strip features some of the city's top attractions and first-class gaming facilities accompanied by luxurious or budget-friendly accommodations. Whether interested in family fun, a ladies night out, bachelor party or birthday party, Las Vegas offers a wide selection of accommodations for every traveler.
Family Fun
The Excalibur, The Orleans and Circus Circus hotels feature gaming options for adults and fun activities for children. These hotels feature a festive family environment that offer kids an opportunity to experience circus acts, roller coaster rides, carousels, carnival-style games, arcades, bowling and 4-D rides. In addition, venues such as Circus Circus provide a variety of rides for kids of different age levels, as well as an indoor miniature golf course.
Luxury
The Strip features resorts with five-diamond ratings, plush accommodations, concierge services and spa-like treatment in luxurious settings for business travelers, romantic getaways or high-stake gamblers seeking the best that Las Vegas offers. Resorts and hotels such as The Wynn, Bellagio, Paris, Venetian, Encore, Caesars Palace and Mandalay Bay Resort & Casino offer different ways to customize vacations, which may include guest rooms or suites spanning more than 3,000 square feet. Some of these hotels, such as the Wynn, feature an 18-hole championship-style golf course on the premises. Hotels such as the Bellagio and Caesars Palace host premier entertainment, such as theatrical performances by Cirque Du Soleil and Cher, respectively.
Off the Strip
Although a majority of the nightlife and gambling takes place on The Strip, some Las Vegas hotels with a vibrant and energetic vibe happen a few miles away. The Hard Rock Hotel & Casino, The Rio All-Suite Hotel & Casino and The Palms Casino Resort offer visitors nightlife, five-star suites and a variety of gaming opportunities. In addition to the dance clubs and high-end bars, some of the unique highlights for these hotels include the entertainment that headlines these establishments. The Hard Rock Hotel & Casino attracts renowned rock bands and performers, such as the Rolling Stones, Santana and Cheryl Crow.
Budget Friendly
Sometimes travelers wish to spend more of their money on gambling, golf courses, fine cuisine or entertainment so they opt for more budget-friendly accommodations. The Travelodge South Strip and Motel 6 Las Vegas Tropicana provide pleasant and comfortable accommodations with all the basics at a more reasonable cost. These hotels may appeal to individuals who do not require lavish amenities and whose stay extends one to two nights.
References
Photo Credits
las vegas from above image by Olegs Mareida from Fotolia.com