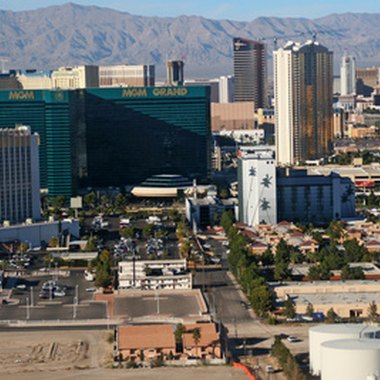 Las Vegas Boulevard stretches for miles between McCarran Airport and the Downtown area. The four-mile long area known as the Strip contains some of the world's most famous casino resorts, such as Bellagio, Caesars Palace, The Venetian and MGM Grand. This stretch of road contains dozens of lodging options with more hotel rooms than most American cities.
Top Resorts
The most well-regarded hotels on the Strip offer plush accommodations with spacious bathrooms, plenty of amenities such as pools and gyms and several fine dining options. In just about all cases, these resorts also contain large casinos each with thousands of slots and dozens of table games. Hotels in this category would include Bellagio, MGM Grand, Aria, Mandalay Bay, Paris, Caesars Palace, The Venetian, Palazzo, Wynn and Encore. The rates at these properties are among the highest in town, and several tack on a hidden resort fee, so inquire about this beforehand.
Moderate Options
To reduce your overall accommodations costs on a Las Vegas trip, consider staying at properties such as Luxor, Excalibur, New York-New York, Bally's, Treasure Island and Monte Carlo. These properties still provide plenty of flashy accommodations and amenities, just at slightly lower quality and prices than the top resorts on the Strip.
Budget Hotels
This class includes chain hotels such as Best Western, Travelodge and Motel 6, as well as cheaper priced casino hotels like Stratosphere, Circus Circus, Riviera, Sahara and Imperial Palace -- many of them clustered in the north end of the Strip. Generally, you are better off searching for deals at budget casino hotels, which usually offer lower rates than the chain hotels. Search online travel booking sites for the lowest rates.
Considerations
Do not underestimate the convenience of being able to gamble or dine in the same property in which you plan to sleep. The distance between properties on the Strip can be deceptively long because of the sheer size of some of the casinos, so you should have a transportation plan in place for your vacation. City buses regulalry run up and down Las Vegas Boulevard, but they can be slow. Taxis are much faster, but can be cost prohibitive for regular travel. If you rent a car you can park it for free at any casino on the Strip.
References
"Fodor's Las Vegas 2010"; Andrew Collins et al; 2009
"American Casino Guide 2010 edition"; Steve Bourie; 2009
Photo Credits
las vegas from above image by Olegs Mareida from Fotolia.com