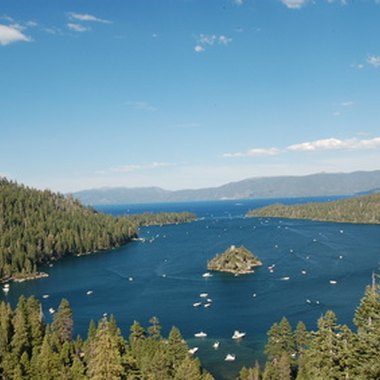 Lake Tahoe is the country's second-deepest lake, with average depths of about 1,000 feet, according to U.S. Geological Survey statistics. Visitors to Lake Tahoe often remark on the alpine lake's striking coloration, ranging from a vivid turquoise along the shorelines to deep midnight blues. Staying at Lake Tahoe beach cabins is a convenient way to enjoy the region's fragrant forests, miles of hiking trails and abundance of water activities, including scuba diving, sailing, water skiing, swimming and stand-up paddle boarding.
Invigorating Zephyr Cove
Zephyr Cove belongs to Lake Tahoe's more active vacationing region, just a few miles from glitzy casinos, busy lakeside restaurants and plenty of shopping. Stay at a cabin within walking distance from Zephyr Cove Lodge and Resort for easy access to wave runners, kayaks, horseback riding and sailboat rentals. The privately owned, two-story cabin at Zephyr Cove sleeps 12 individuals and offers mooring access for boats. Amenities include a stone fireplace and barbecue for grilling your freshly caught fish. Summer is the time for star-gazing during meteor showers in Lake Tahoe, so get cozy in the hot tub to watch for falling stars.
Quiet Resort Cabins
The beach cabins at Meeks Bay offer a quieter experience at Lake Tahoe. While Meeks Bay's golden-sand beach does get busy on the weekend, during the week it offers an idyllic place to drowse in the warm sunshine while enjoying the lake's mountain vistas. It's a fun place to watch wakeboarders perform aerial maneuvers from behind trolling power boats attracted to the bay's calmer waters, and families can bounce volleyballs at the resort's beach nets. Cabins start at studio-size, and the elegant Kehlet Mansion sleeps 12 people with wide views of the lake. At the resort's adjacent campground, guests often exchange humorous tall tales about occasional roaming night time bears.
South Tahoe Marina
Many visitors to Lake Tahoe arrive with goals of spending hours on the lake, zipping around in a speed boat or sailboat cruising. Staying at a Lake Tahoe beach cabin with access to a marina is one way to maximize time spent on the water. The Lakeshore Beach House in South Lake Tahoe is within walking distance to the Stateline Marina and offers a private beach. Stone floors and wood paneling give the cabin a rustic feel, although it's equipped with plenty of modern conveniences, including wireless Internet, stainless steel appliances and gas grill. Guests can enjoy a free appetizer at Lew Mar Nels steakhouse, located one block from the cabin.
Classic Resort
Enjoy all the perks of a classic Lake Tahoe resort while staying in a cabin at the Cedar Glen Lodge. Guests can enjoy free breakfast, heated outdoor pool, sauna, fire pit and free wireless Internet. You can stay in one- or two-bedroom cabins, located within 400 feet of the resort's private beach. Guests receive discounts on nearby rentals, including kayaks, mountain bikes and sailboats. Nevada's casinos are located within three miles of the resort.