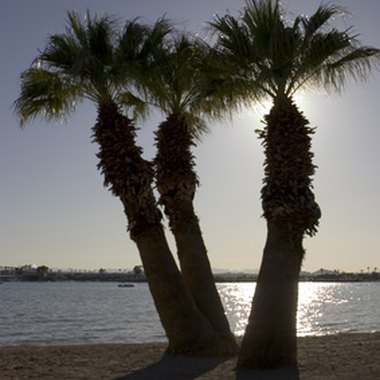 In the arid climate of Arizona, any pond is an oasis and any lake, man-made or natural, is an attraction. Lake recreation in Arizona draws visitors to high and low altitudes, to the most natural of settings and to lakes where crowds of weekend and vacation boaters gather. Travelers interested in the various types of lake recreation can find an array of lake resorts to choose from.
Sleep, Dine and Play on Land or Water
The made-made reservoir Lake Powell straddles Utah and Arizona. Aramark operates a full-scale resort on Lake Powell in Arizona. The Lake Powell Resort at Wahweap Marina has accommodations that are eco-friendly and have lake views. Farther up the lake, at Bullfrog Marina, the Defiance House Lodge offers a full spectrum of water sports. Guests who prefer family-style lodging with apartment features might consider Halls Crossing. And if a floating condo is what you want, that is available too. Aramark offers houseboat rentals with from one to six bedrooms and an outdoor grill for on-deck cookouts.
A Lake Where Eagles Winter
While the size of Mormon Lake can vary with rainfall, it is Arizona's largest natural lake. The lake has been known to go completely dry, and during those times the lake area is also known as Mormon Meadow. Visitors come for the beauty of the landscape and the birds, especially eagles, falcons and other raptors. Mormon Lake Lodge accommodations are in log cabin style-buildings surrounded by ponderosa pines. Visitors can chose from motel-type lodging or separate rustic log cabins, some with kitchens and some with accommodations for as many as 12 guests. In the mountain air, guests are likely to work up a healthy appetite. Mormon Lake Lodge Steakhouse serves USDA Choice open-pit mesquite-grilled beef, plus chicken and fish entrees.
A Get-Away From the City
Apache Lake is one of a series of four lakes east of Phoenix that were originally created to support agriculture. These reservoirs, part of the Salt River Project, provide water recreation for Phoenix visitors and residents. Apache Lake Marina and Resort lies 65 miles to the east of Phoenix. The 17-mile-long lake is dotted with sharply rising rock walls and secluded coves. Desert wildlife including bighorn sheep, javelina (also known as peccary) and deer inhabit the surrounding rocks. The resort caters to water recreationists, whether they come to canoe or kayak or to water ski. Guest accommodations lean toward motel style rather than resort style, with a two-night minimum on weekends and holidays. The restaurant is also on the informal side, serving breakfast, lunch,and dinner daily with hamburgers and other sandwiches as staple fare. At the marina, fishing boat and pontoon boat rentals are available. The general store has picnic supplies and provisions for boaters.
A Fusion of English Tudor and Arizona Desert
The London Bridge Resort, next to the London Bridge, is located on Arizona's Lake Havasu, a popular boating destination for Arizonans and neighboring Californians. The hotel is lakefront, with 122 spacious studio rooms and one- and two-bedroom suites. The backdrop of the stark mountains and lake makes for a stunning scene, so ask for a room with a bridge view. The hotel's English gardens create a fun respite from the action of the waterfront and the three swimming pools. On-site are a boat dock and a marina.
Photo Credits
Lake Havasu Arizona 6617 image by St Clair Photography from Fotolia.com