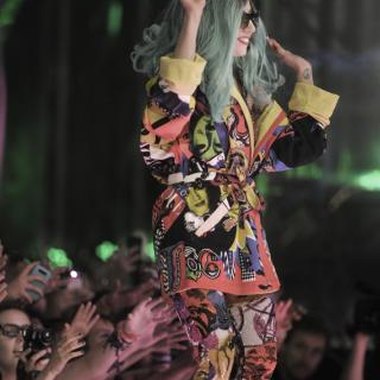 From declaring that going pantless was an art form to "Entertainment Weekly" in 2009, to wearing a dress made of meat to the MTV Video Music Awards in 2010, Lady Gaga is truly unique. The Grammy award-winning singer has raised plenty of eyebrows, but her fans, or "little monsters" as she calls them, clamor for more. She first gained attention in 2008 and remains a source of awe, leaving many people to wonder just where she gets the inspiration for her music and especially for her one-of-a-kind fashions.
Grace Jones
In a 2009 interview with "Fuse," Lady Gaga called singer Grace Jones an inspiration, citing her fascination with androgyny in general. Later, in a 2010 article in "Q" magazine, Lady Gaga referred to Jones as her "Jesus." Since her earliest days of stardom, comparisons between the two have surfaced, but unfortunately Jones has gone on record stating her dislike of Lady Gaga. According to MSN Music News, she even turned down a request by Lady Gaga to work together, saying that Lady Gaga was copying her style.
Alexander McQueen
British fashion designer Alexander McQueen was known for his controversial designs and runway shows. Lady Gaga has stated that McQueen was a fashion inspiration to her. She was seen wearing some of his more interesting designs, including 10-inch lobster claw heels. After McQueen passed away in 2010, Lady Gaga told "Harper's Bazaar" that he continued to work through her. She penned the song "Born This Way" right after his passing and released the full-length album on the one-year anniversary of his death. During the 2010 Brit Awards, she dedicated her avant-garde performance to him.
Madonna
Like many pop singers of her generation, Lady Gaga has acknowledged Madonna's influence on her career. She told NME TV in 2011 that Madonna was a "big inspiration" for her while writing her "Born This Way" album. That same year, she was accused of stealing from Madonna's "Express Yourself" sound. She later told Jay Leno that she had Madonna's support and that she was the Material Girl's "hugest fan personally and professionally."
Andy Warhol
Lady Gaga cites Artist Andy Warhol as an inspiration for her style as well as her "Haus of Gaga" creative team. The team is responsible for Lady's Gaga's look from her clothes to set design. She has stated that she based the idea for the Haus of Gaga on "the factory," Warhol's New York City hangout for artists, musicians and actors. During a 2009 visit to the United Kingdom, Lady Gaga told reporters that Warhol was her hero and that she choose outfits that emulated him.
Photo Credits
Jag Gundu/Getty Images Entertainment/Getty Images