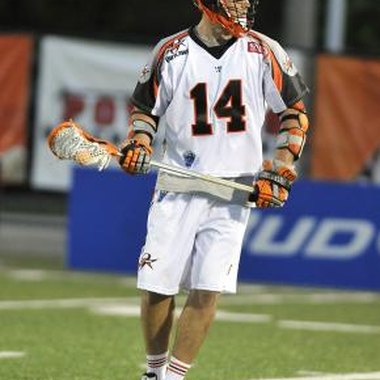 Seventh-grade boys have many options for lacrosse camps in Denver, Colorado. The city is home to lacrosse teams at the collegiate level with Regis University and the University of Denver. Denver also features the Outlaws of Major League Lacrosse. All of these organizations lend players and coaches to summer camps for seventh-grade boys.
Ranger Nation Lax Clinics
Regis University (regisrangers.com) in Denver puts on the Ranger Nation Lax Clinics (laxcamps.com), a two-day camp held at the campus. Campers receive instruction from university coaches and players, access to the indoor and outdoor fields and also receive equipment to use. Additionally, specific training for goalkeepers is available. At the time of publication, the camp costs $50 per day or $80 for both sessions, which last 3 1/2 hours. Boys and girls ages 8 to 13 are welcome at the camp.
GameBreaker
Also at Regis University (regisrangers.com) in Denver, the GameBreaker Lacrosse Camp (laxcamps.com) is a four-day session that focuses on multiple aspects of lacrosse. Campers choose from an overnight or extended-day camps. Skills including shooting, defense, stick handling, clears and face-offs are points of emphasis at GameBreaker. Boys and girls at the camp also receive a reversible jersey, a water bottle and prizes for successful participation. At the time of publication, the cost ranges from $395 to $525, depending on whether the camper is staying the night or not.
University of Denver Overnight Camp
Seventh-grade boys also can choose the overnight camp at the University of Denver (denverpioneerslacrosse.com). This four-day camp is designed for players of all skill levels. Coach Bill Tierney is one director at the camp, which stresses organization and structure in a learning environment. At the time of publication, the camp costs $510, but day campers pay $450. The camp leads into the Colorado Cup, a youth lacrosse tournament held on the University of Denver campus.
Denver Outlaws
The professional Denver Outlaws (denveroutlaws.com) run their own three-day camps during the summer in Denver. Coaches and players from the team make appearances at the camp and provide instruction for the boys. As the time of publication, campers pay $300 for the session. A day at the Outlaws camp generally consists of multiple drills that are then inserted into game situations. Raffles and competitions add enjoyment to the camp.
Denver Lacrosse Club
The Denver Lacrosse Club (denverlacrosse.org) organizes a six-week lacrosse camp with one clinic held each week. Seventh-grade boys attend camp every Wednesday from 4 p.m. to 5:30 p.m. The Denver Lacrosse Club aims to provide a stress-free environment in which campers are introduced to the game. At the time of publication, the six-week session costs $80. Players receive a jersey but must bring their own protective gear.
Photo Credits
Brad White/Getty Images Sport/Getty Images