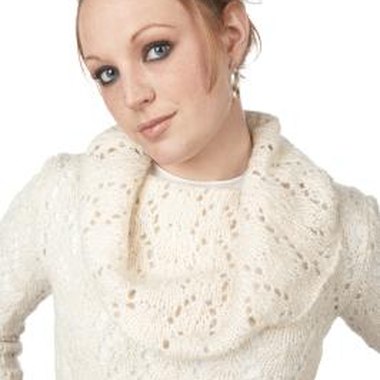 "Lace knitting" is an umbrella term used to describe patterns that are made from knitted holes. Lace can be repeated throughout a project, worked into a pattern or added as a decorative edging. Although lace knitting is generally assumed to be a complex skill, it is a relatively simple technique that is done by creating new stitches or knitting existing stitches together.
Step

1
Familiarize yourself with the basic lace knitting techniques. A "yarn over," for example, is made by bringing the yarn to the front of the working needle. This creates a hole, known as a eyelet, in the work. Lace knitting also utilizes decreases, such as knitting or purling two stitches together. These are made by inserting the needle into the next two stitches, wrapping the yarn around both stitches and knitting as normal.
Step

2
Select materials for knitting lace items. Lightweight or cotton yarns are better suited to lace knitting, as are small knitting needles, usually 3.25 mm in size or less. This is because lace knitting was originally intended to mimic traditional needlework lace that is finer and more delicate. However, you can use bulkier weights and larger needles for a project that knits up quickly.
Step

3
Find lace patterns online (see Resources section) or by visiting your local library. If this is your first attempt at knitting lace, choose a simple project, such as a place mat, coaster or dishcloth, before moving onto larger projects such as scarves, cardigans or jumpers. This will give you a chance to practice and become accomplished at basic lace techniques.
Step

4
Knit the item by casting on loosely, spacing the stitches farther apart than you usually would. You might also find it easier to work one row of knit or purl stitches before you commence the pattern. Count your stitches at the end of each row to ensure the correct number, and use a row counter to keep track of your progress with the pattern. Cast off loosely, leaving a long tail of 5 inches for weaving in the ends.
Step

5
Use a tapestry needle to weave in any ends and then lay the item flat. Pull on each corner to gently stretch out the item before spritzing liberally with a spray bottle. Pin the corners to a flat surface and leave to dry naturally.
Tips & Warnings
Knit a practice swatch before you attempt a lace project, to check the gauge and familiarize yourself with the lace pattern.
References
"The Knitting and Crochet Bible"; Claire Crompton & Sue Whiting; 2008
"Knitting Patterns For Dummies"; Kristi Porter; 2007
"The Needlecraft Book"; Alison Smith; 2010
Photo Credits
PhotoObjects.net/PhotoObjects.net/Getty Images